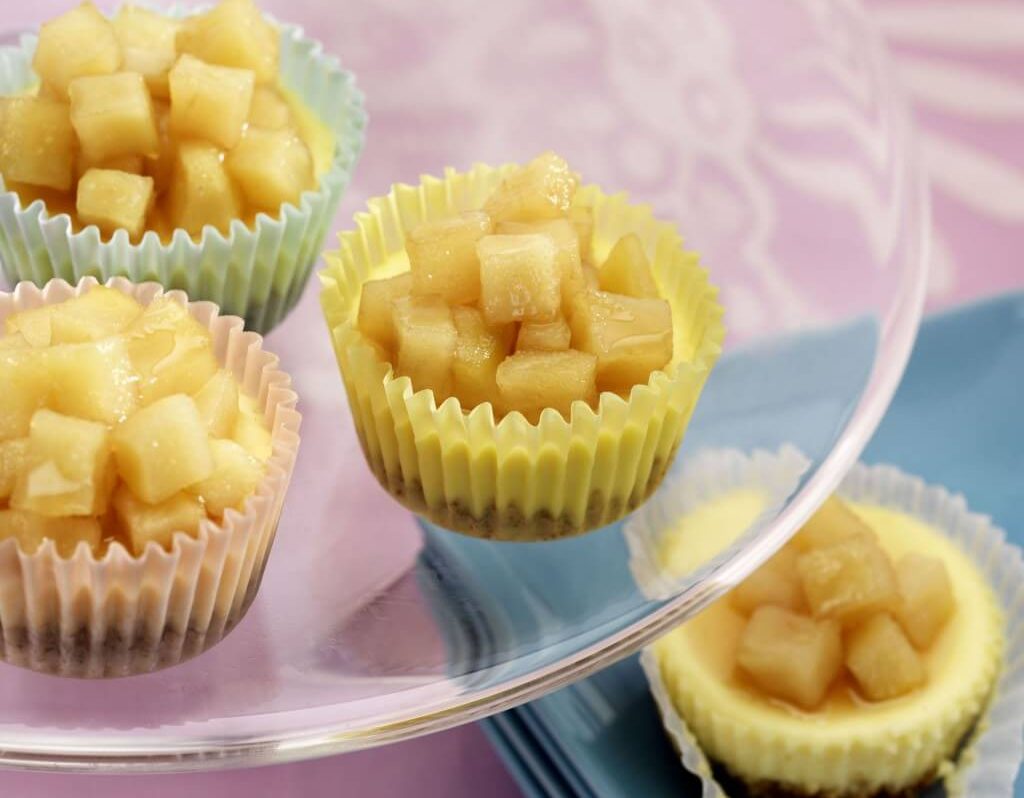 Mini Chevre Cheesecakes with Pears in Lavender Honey
These mini cheesecakes are the perfect dessert for any gathering—bring them to a baby shower, a Mother's Day gathering, or a Sunday brunch.
INGREDIENTS
Pears in Lavender Honey*
1 cup mild honey
1 tablespoon dried lavender buds (2 tablespoon fresh buds) OR ½ teaspoon vanilla extract
3 cups peeled, chopped (½-inch) firm, ripe USA Pears
Mini Cheesecakes
¾ cup graham cracker crumbs
½ cup finely chopped walnuts, toasted
2 tablespoons granulated sugar
2 tablespoons butter, melted
11 ounces cream cheese (one 8-ounce package and one 3-ounce package) at room temperature
6 ounces soft, fresh goat cheese (chèvre), at room temperature
½ cup granulated sugar
1 teaspoon finely grated lemon zest
1 teaspoon vanilla extract
2 large eggs
18 fresh raspberries or lavender sprigs, for garnish
DIRECTIONS
For pears: In small saucepan, combine honey and lavender. Bring to a boil over medium-high heat. Remove from heat and set aside to steep 30 minutes. Strain honey into heatproof bowl. Discard lavender. Return honey to saucepan and add pears. Stir over medium-high heat until honey comes to a simmer, then reduce heat and simmer gently 1 to 2 minutes. (Cook just enough to infuse pears with flavor – they should retain their shape.) Remove from heat and cool. Cover and chill pears in syrup. Can be prepared up to 2 days before serving.
For cheesecakes: Preheat oven to 350 degrees. Line 18 (2 ¾-inch) muffin cups with paper cups. In medium bowl, stir together graham cracker crumbs, walnuts, 2 tablespoons sugar, and melted butter. Spoon mixture evenly in bottoms of cups (about 1 tablespoon in each) and pat down to an even layer. Bake 4 to 6 minutes, until fragrant. Remove from oven and reduce oven temperature to 325 degrees. Place cream cheese, goat cheese, ½ cup sugar, lemon zest, and vanilla in bowl of food processor. Process until smooth, stopping to scrape bowl once or twice. Add eggs, one at a time, and process 5 to 10 seconds to blend well. Spoon filling into muffin cups. Bake 15 to 18 minutes, until almost set in center. Cool in pan on wire rack. Remove cheesecakes from pan to covered container and chill 3 hours or up to 2 days. To serve, drain pears, reserving syrup. Top each cheesecake with about 1 tablespoon pears and drizzle with about ½ teaspoon syrup. Garnish each with a fresh raspberry or fresh lavender sprig, if desired.
*Alternate to infusing honey with lavender: Use 1 cup of creamed, flavored honey such as raspberry, blueberry or lavender. (These creamed honeys become clear when heated.) Simmer honey with chopped pears as directed.
NUTRITION
Serving Size: 1 Mini Cheesecake
Calories: 224 (48% Calories from Fat)
Carbohydrate: 24g
Dietary Fiber: 1g
Protein: 5g
---
1 Comment » for Mini Chevre Cheesecakes with Pears in Lavender Honey