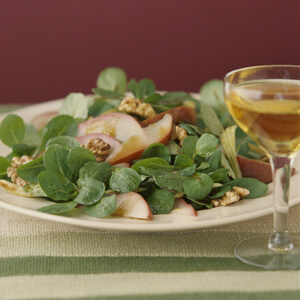 Mâche Roasted Pear and Fennel Salad with Port Vinaigrette
Mâche has a mild, sweet, nutty flavor and succulent texture, making it ideal for salads. It pairs marvelously with fruit, as showcased in this salad. The Red Anjou pears provide a beautiful burst of color when mixed with the emerald green mâche.
INGREDIENTS
Salad
1 cup walnut halves, toasted
2 firm but ripe Red Anjou USA Pears, halved and cored
2 small fennel bulbs, (about 12 ounces), stalks removed, cored and quartered
1 tablespoon olive oil
¼ cup vegetable stock
8 cups (2 packages) Epic Roots Mâche
Port Vinaigrette
1 cup port
1 shallot, peeled and sliced
¼ cup olive oil
2 tablespoons balsamic vinegar
Salt and pepper to taste
DIRECTIONS
For salad: Preheat oven to 400 degrees. Toast walnuts about 5 minutes. Place pears, cut side up, in glass or ceramic baking dish with fennel. Drizzle with olive oil and vegetable stock. Cook in oven for 10 minutes. Turn pears and fennel over and roast until pears are tender, approximately 5 minutes. Transfer pears to plate. Continue cooking fennel until tender, approximately 10–15 minutes. Transfer fennel to plate with pears. When cool, thinly slice pears and fennel lengthwise.
For vinaigrette: Reduce port and shallots in a heavy saucepan over medium heat to ¼ cup. Strain into a large bowl and cool. Whisk in oil, vinegar, salt, and pepper until thoroughly combined.
Toss the mâche, pears, fennel, and walnuts in vinaigrette. Serve and garnish with extra pears and walnuts.
NUTRITION
Serving Size: 3 Cups (211g)
Calories: 220
Carbohydrate: 15g
Dietary Fiber: 4g
Protein: 4g