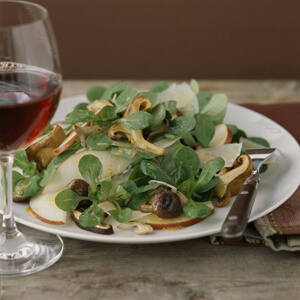 Mâche Pear and Wild Mushroom Salad
Mâche is an heirloom green that has a mild, sweet, nutty flavor and succulent texture, making it ideal for salads. The winning combination of pears, mâche, and sautéed mushrooms makes this impressive salad a perfect choice for entertaining.
INGREDIENTS
Vinaigrette
1 ½ tablespoons prepared Dijon mustard
3 tablespoons sherry vinegar
3 ounces extra-virgin olive oil
Salt and pepper to taste
Salad
½ pound mushrooms, wild or domestic (lobster, portobello, chanterelle, etc.)
1 tablespoon olive oil
8 cups (2 containers) Epic Roots Mâche
2 ripe red USA Pears, halved, cored, cut lengthwise in thin slices
1 cup (2 ounces) shaved Parmesan cheese
1 shallot, peeled and thinly sliced
DIRECTIONS
For vinaigrette: In a small bowl, whisk mustard and vinegar until blended. Gradually add olive oil until smooth. Add salt and pepper to taste.
For salad: Sauté mushrooms in olive oil over medium-low heat until lightly browned. In a large bowl, combine mâche, pears, mushrooms, cheese, and shallots. Toss in vinaigrette, coat thoroughly. Add salt and pepper to taste.
NUTRITION
Serving Size: 5.5 oz
Calories: 180
Carbohydrate: 11g
Dietary Fiber: 2g
Protein: 5g