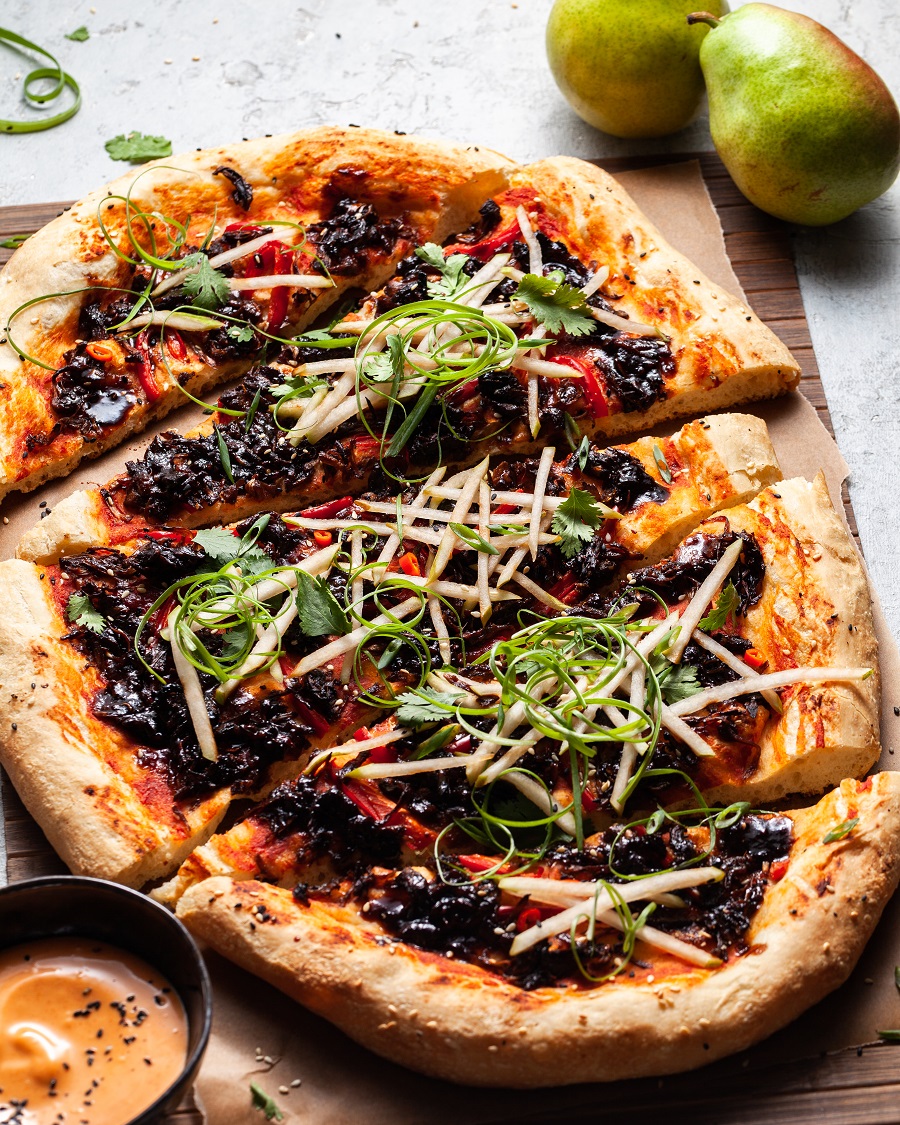 Korean Inspired BBQ Pulled Jackfruit Pizza with Anjou Pears
Warning...this one's addictive! The vegan pulled 'pork' swimming in sweet 'n' salty BBQ sauce and spicy Gochujang passata are SO GOOD with fresh, crisp Anjou pear matchsticks! Recipe and photography by Bronwyn Fraser (@crumbs.and.caramel).
INGREDIENTS
Note: recipe makes 2 medium pizzas
2 tbsp (30 mL) sesame oil, plus more for brushing
2 x 20 oz cans young jackfruit in brine (not syrup), rinsed, drained and squeezed dried
1/2 red onion
Korean Inspired Barbecue Sauce
1/2 cup (125 mL) low sodium soy sauce
2/3 cup (42 g) brown sugar
3 tbsp (60 mL) rice wine vinegar
1 tbsp (15 mL) toasted sesame oil
1 tsp (5 mL) gochujang
2 tsp (~4 g) fresh ginger, minced
4 cloves garlic, minced
1 tbsp (7 g) cornstarch
1 tbsp (15 mL) water
Gochujang Passata
1/2 cup (125 mL) crushed tomatoes
1 tsp (5 mL) gochujang
1 lb (485 g) pizza dough, homemade (first rise complete) or store-bought (room temperature)
1 red bell pepper, cut into thin strips
1 tbsp (8 g) sesame seeds
4 green onions, thinly sliced
1 Green Anjou Pear, julienned (I used D'Anjou b/c it's crisp & firm)
handful cilantro leaves
Gochujang Dipping Sauce
1/4 cup vegan mayo
1 tbsp lime juice
1 tsp gochujang
DIRECTIONS
Preheat the oven to 500°F.
Remove the fibrous/meaty parts of the jackfruit from the thick cores. In a large cast iron skillet or heavy bottomed pot, heat the sesame oil. When shimmering, add in the jackfruit. Cook, stirring occasionally for about 10 minutes until it begins to crisp in places. Add in the onion and fry for another 5 minutes. In the meantime, prepare the BBQ sauce.
Whisk together the sauce ingredients (except the cornstarch and water) in a small saucepan. Bring to a boil, reduce the heat and simmer for 5 minutes. Whisk the cornstarch with the water until it's completely dissolved then add it to the BBQ sauce, stirring constantly. Heat for another minute or 2 to thicken slightly, then remove from heat.
Add half of the BBQ sauce to the jackfruit, cooking for another couple of minutes, mashing the jackfruit a bit to encourage it to absorb the sauce.
In a small bowl, whisk together the crushed tomatoes and the Gochujang.
Split your pizza dough in two, stretching each piece out to roughly a 12" (31cm) diameter on a lightly oiled baking sheet (for those with a pizza peel and stone, you know what to do!) Spread the passata on each pizza, then top with the jackfruit and red peppers. Brush the crust with sesame oil and sprinkle with the sesame seeds. Bake for 8 minutes, or until the crust is golden. Meanwhile, whisk together the ingredients for the dipping sauce.
Top the pizza with the pears, green onions, cilantro, a drizzle of reserved BBQ sauce, and dip as desired in the Gochujang mayo. Enjoy!
NUTRITION