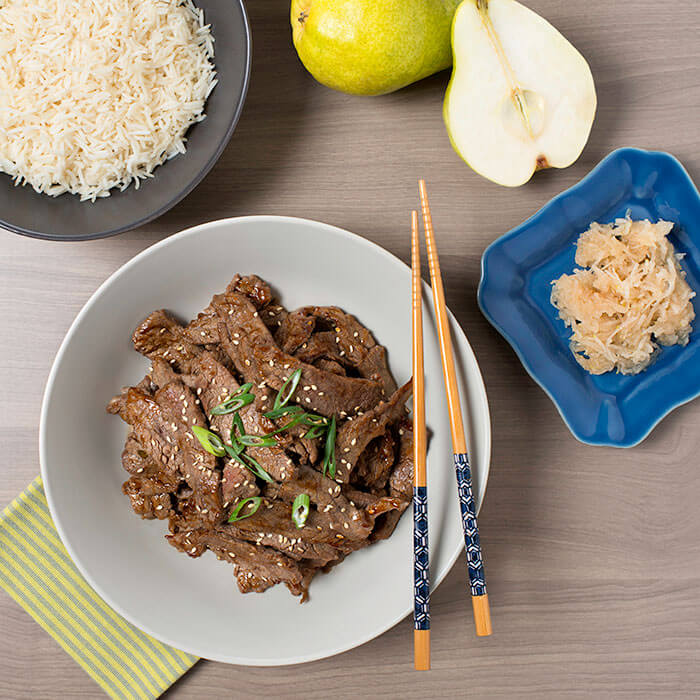 Pear juice adds sweetness and helps to tenderize the beef in this bulgogi dish that is traditionally cooked over a grill. You can serve it with rice, in a lettuce wrap, or try it fusion style in a taco or burrito.
INGREDIENTS
BBQ Beef
1 pound lean stir-fry beef, such as flank steak or sirloin cut across the grain, very thinly sliced
1 ripe Green Anjou or Bartlett USA Pear, peeled and cored
2 cloves minced garlic
1 teaspoon minced ginger
2 chopped green onions
3 tablespoons soy sauce or tamari
1 teaspoon brown sugar
2 teaspoons toasted sesame oil
Pinch freshly ground black pepper
Garnish
2 teaspoons toasted sesame seeds
2 sliced green onions
DIRECTIONS
Grate the pear in a large bowl or if it's soft enough, mash it. Add the garlic, ginger, green onions, soy sauce, brown sugar, toasted sesame oil, and black pepper. Stir to combine and add the beef, coating it completely. Cover the bowl and let marinate in the refrigerator for 1 to 2 hours. Drain the beef from the marinade using a strainer or colander.
Heat a large no-stick or cast iron skillet or griddle over medium-high heat until it is hot. Add enough beef to cover in one layer and stir fry, until the meat is completely cooked through, about 3 minutes; transfer to a plate. Repeat with the remaining beef.
Garnish with sesame seeds and green onions before serving.
NUTRITION
Serving Size: 4 oz
Calories: 310
Carbohydrate: 2g
Dietary Fiber: 1g
Protein: 31g
---
1 Comment » for Korean Barbecue Beef