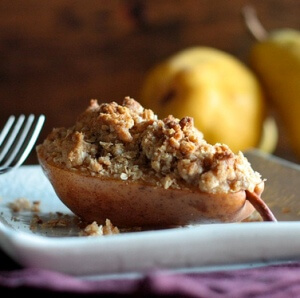 Megan, the creative mind behind
Country Cleaver
, says of her pretty recipe: "For a quick and simple dessert, my favorite way to eat pears is in a quick pear crisp – it takes 20 minutes to bake, and with just a few pears on hand, you can feed a crowd in a rustic way with no muss and no fuss."
INGREDIENTS
4 whole Bartlett USA Pears
⅔ cup flour
½ cup oats
⅓ cups brown sugar
1 teaspoon cinnamon
6 tablespoons butter, cubed and chilled
DIRECTIONS
Preheat oven to 375 degrees.
On a cutting board, slice pears in half. To ensure that the pears lay flat while baking, slice off a small piece on the outside of each pear. The middle of the pear should be facing up. With a melon baller or spoon, scoop out the seeds of the pears. Place pears onto a baking sheet or in the bottom of pie dishes. In a medium bowl, whisk together all dry ingredients. With a pastry cutter, cut in butter until crumbles develop.
Top pear halves with crumbles.
Bake for 20 minutes, or until crumbles turn golden brown on top. Serve while warm. Serve with a scoop of vanilla ice cream, if you're feeling daring.
NUTRITION
Serving Size: 1 Half Pear
Calories: 240
Carbohydrate: 37g
Dietary Fiber: 4g
Protein: 3g
---
1 Comment » for Individual Pear Crisps