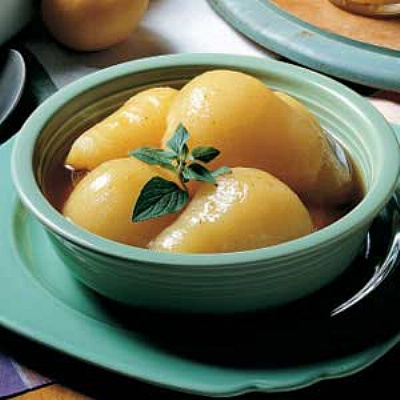 If you've never poached a pear before, this is an easy recipe to get you started!
INGREDIENTS
4 ripe Anjou pears, peeled, halved, and cored
1 lemon, squeezed
2 cups water
1 cup orange juice
½ cup brown sugar
¼ cup honey
½ teaspoon vanilla
½ teaspoon nutmeg
¼ teaspoon ginger powder
Mint leaves to garnish
DIRECTIONS
Combine orange juice, water, sugar, and honey in a large saucepan. Stir well to mix and bring to a simmer. Add vanilla, nutmeg, ginger powder, and lemon juice. Add the pears and simmer for 30 minutes, turning pears to make sure all surfaces have been cooked. Remove from pan and keep warm. Let the remaining liquid boil until syrup thickens. Cut pears into slices and arrange in a serving dish. Pour syrup over pears, garnish with mint leaves and serve.
NUTRITION
Serving Size: 1 Pear
Calories: 340
Carbohydrate: 85g
Dietary Fiber: 7g
Protein: 1g