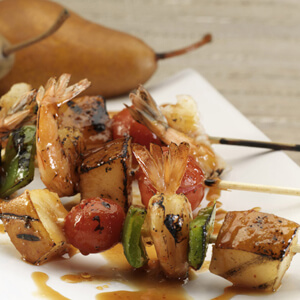 Grilled Asian Shrimp Skewers with Pears
Grill up these fun and tasty Asian skewers with ingredients that artfully mix sweet and savory. Serve them as an appetizer or as an innovative side to your main course grillables!
INGREDIENTS
½ cup honey
½ cup soy sauce
2 tablespoons sesame oil
1 tablespoon ground ginger
2 teaspoons minced garlic
½ teaspoon red pepper flakes
12 skewers
2 USA Pears, cored, cut into 1-inch cubes
36 shrimp, peeled, deveined, 31/40 count
1 green bell pepper, cored, seeded, cut into 12 1-inch squares
12 cherry tomatoes
DIRECTIONS
Soak skewers in water.
Whisk together honey, soy sauce, sesame oil, ground ginger, garlic, and red pepper flakes until blended; set aside.
Thread each skewer with 3 cubes pear, 3 shrimp, 1 pepper square, and 1 cherry tomato.
Place skewers in large shallow pan. Pour marinade over kabobs and refrigerate for 1 hour.
Brush grill with oil. Preheat grill.
Grill kabobs over medium heat for 3 to 5 minutes on each side until shrimp is cooked.
NUTRITION
Serving Size: 1 Skewer
Calories: 150
Carbohydrate: 15g
Dietary Fiber: 2g
Protein: 18g
---
1 Comment » for Grilled Asian Shrimp Skewers with Pears