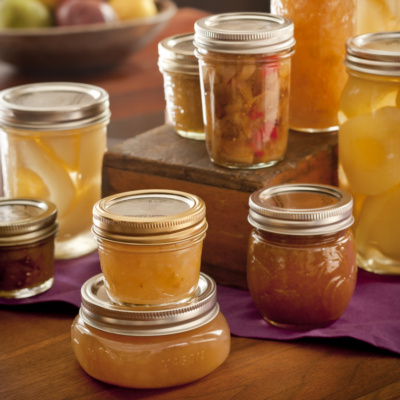 Ginger and citrus enhance the flavor of this pear jam.
INGREDIENTS
3 pounds fresh Bartlett USA Pears
1 orange
½ lemon
½ cup diced candied ginger
1 package (1 ¾ ounces) powdered fruit pectin
5 cups sugar
DIRECTIONS
Core and finely dice pears to make 4 cups. Put orange and lemon through food chopper or process coarsely. Combine pears, orange, lemon, candied ginger, and fruit pectin. Bring to boil. Add sugar and bring back to full rolling boil. Boil 1 minute. Remove from heat and skim with metal spoon. Cool 5 minutes, skim again. Put in sterilized jars and seal. Process according to manufacturer's directions.
yield: Makes approximately 6 half pints
NUTRITION
Serving Size: 1 TBSP
Calories: 50
Carbohydrate: 13g
Dietary Fiber: 1g
Protein: 0g