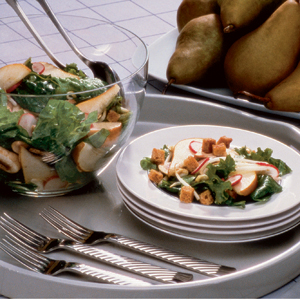 Fresh Pear Salad with Whole Wheat Croutons
The mild-sweet flavor and smooth texture of pear adds flair to even the most basic salads. Here, an otherwise ordinary salad instantly becomes a special! Homemade whole-wheat croutons are also a fine touch.
INGREDIENTS
Salad
2 cups mixed salad greens
½ cup sliced mushrooms
½ cup sliced radishes
⅓ cup bean sprouts
1 Bosc or Anjou USA Pear, sliced
Dressing
3 tablespoons oil
1 tablespoon red wine vinegar
1 tablespoon lemon juice
¼ teaspoon salt
⅛ teaspoon black pepper
Worcestershire sauce, to taste
Whole Wheat Croutons
1 tablespoon butter or margarine
½ cup whole wheat bread cubes
Garlic powder, to taste
DIRECTIONS
For salad: Combine greens, mushrooms, radishes, and sprouts in salad bowl; toss. Add pears, dressing, and croutons; gently toss until all ingredients are coated. Serve immediately.
For dressing: Combine all ingredients and mix well.
yield: Makes ¼ cup
For croutons: Melt butter in 8-inch square pan. Add bread cubes; stir to coat with butter. Sprinkle with garlic powder; stir. Bake at 250 degrees for 20 to 30 minutes or until toasted.
yield: Makes about ½ cup
NUTRITION
Serving Size: 2 Cups (146g)
Calories: 230
Carbohydrate: 22g
Dietary Fiber: 4g
Protein: 3g