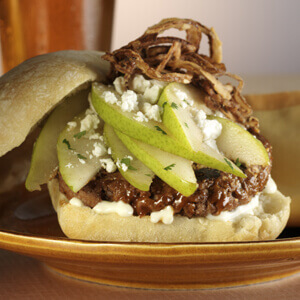 Fez Burger with Cinnamon Pears
This hearty burger packs a perfect umami punch with feta cheese, crispy onions, and barbecue sauce. Paired with cinnamon pears, it's a pear-fect blend of sweet and savory. The cinnamon syrup can be refrigerated up to one month and used again.
INGREDIENTS
1 cup granulated sugar
1 tablespoon lemon juice
2 cinnamon sticks
2 medium Bartlett USA Pears, cored, quartered, and cut lengthwise into 4 slices per quarter
¼ cup light mayonnaise
1½ teaspoons lemon zest
1 tablespoon lemon juice
¼ teaspoon garlic, pressed
2 pounds lean angus beef
½ cup prepared spicy molasses barbecue sauce
4 ciabatta-type rolls, split
½ cup crumbled feta cheese
1 cup crispy fried onions
Chopped cilantro for garnish
DIRECTIONS
Combine sugar, lemon juice, cinnamon sticks, and ½ cup water in a medium saucepan. Boil for 1 minute. Add pear slices. Reduce heat and simmer until pears are tender-crisp, about 3 minutes depending on ripeness of fruit. Remove with slotted spoon and cool on a wire rack.
Combine mayonnaise, zest, juice, and garlic. Set aside.
Preheat grill to high. Shape beef into four ¾-inch thick patties. Grill on one side until grill-marked, about 4 minutes; turn, top each with 2 tablespoons barbecue sauce. Grill on second side to desired doneness. Spread cut sides of rolls with aioli. Stack burgers, pears, feta cheese, and fried onions on rolls. Garnish with cilantro and serve with roll top alongside.
NUTRITION
Serving Size: 1 Burger (573g)
Calories: 1370
Carbohydrate: 69g
Dietary Fiber: 6g
Protein: 57g