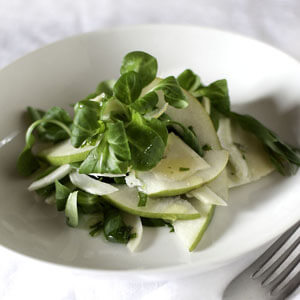 Epic Roots Mache and USA Pear Salad
The flavor and texture of USA Pears and Epic Roots Mâche pair perfectly in this healthy, tasty salad. Serve it at sunny picnics or elegant brunches—it's sure to impress. Want to make it an entrée? Simply add chicken, fish, or beef at about 3 ounces per person.
INGREDIENTS
Vinaigrette
8 tablespoons extra virgin olive oil
2 tablespoons white wine vinegar
2 teaspoons finely chopped shallot
3 teaspoons finely chopped fresh tarragon
Sea salt and freshly ground pepper to taste
Salad 
8 ounces Epic Roots Mâche Rosettes or Mâche Mix (2 packages)
4 Green Anjou USA Pears, cored and sliced
8 ounces Parmesan cheese, shaved
1 cup chopped fennel
DIRECTIONS
In a small bowl, blend vinaigrette ingredients together. Season with salt and pepper to taste. In a large bowl, place mache, pears, cheese, and fennel; toss with vinaigrette. Arrange for family-style serving on platter, or divide salad among individual plates.
NUTRITION
Serving Size: 6.5 oz
Calories: 320
Carbohydrate: 19g
Dietary Fiber: 4g
Protein: 12g