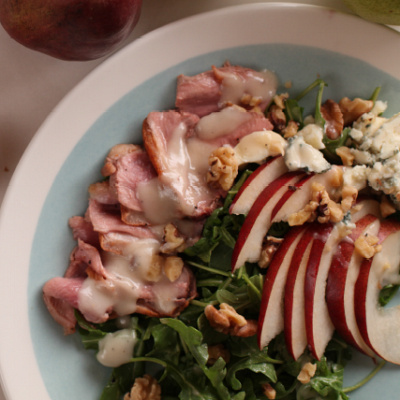 Duck Breast Salad with Pear Dressing
Crispy-skinned duck breast thinly sliced over arugula and drizzled with a delicious pear dressing. Recipe by Sara Moulton - Sara's Weeknight Meals Episode 516, Farm to Table.
INGREDIENTS
2 whole duck breasts with the skin (4 halves, about 2 lbs total)
1 very ripe pear, peeled, cored and sliced 1⁄2-­‐inch thick
1⁄2 cup distilled white vinegar
1 tablespoon honey
1⁄2 teaspoon Kosher salt
1/8 teaspoon ground black pepper
1⁄4 cup walnut oil
6 cups arugula
3/4 cup finely sliced ripe pears
1/3 cup chopped toasted walnuts, optional
1⁄2 cup crumbled blue cheese, optional
DIRECTIONS
Dry duck breasts thoroughly with paper towels. Using a very sharp knife, score fat side of duck in a diamond pattern, making slashes about 1/4 inches apart, to allow fat to render easily. Sprinkle the skin with some salt and pepper.
Place the duck, skin side down, in a large cold skillet. Turn the heat to medium low and cook the ducks, until the skin looks very crispy, about 12 minutes. (Do not pour off the fat; the liquid fat in the pan helps to render out the fat in the skin.)
When the duck skin is crisp, transfer the breasts to a plate. Pour off all but 1 tablespoon of the fat from the pan, reserving the remaining fat in a bowl. Season the meat side of the duck with salt and pepper and return it to the skillet, meat side down. Cook for the breasts another 3 to 5 minutes for medium rare. Transfer the duck to a clean plate, skin side up. Cover it loosely with foil and let it rest for 10 minutes before slicing.
Meanwhile, in a small saucepan combine the pear and vinegar, bring to a boil and simmer until the liquid is reduced by half. Transfer the pear mixture to a blender, add the salt, pepper and honey and blend until smooth. With the motor running add the oil in a thin stream.
In a large bowl toss the arugula with some of the pear dressing and toss well. Mound one fourth of the salad on each of four plates and top each portion with the sliced duck, the dried pears, the walnuts and the blue cheese.
NUTRITION
Serving Size: 14 oz
Calories: 770
Carbohydrate: 18g
Dietary Fiber: 4g
Protein: 62g