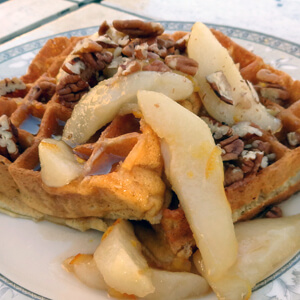 Double Delight Pear Waffles
The Bite
 reader (and pear enthusiast) Merry Graham sent us her recipe for pear waffles, and we knew we had to share it! Not only are these waffles fluffy and crisp and sweet, they're also beautiful. Impress your next houseguests—or your sleepy family—with this brunch dish.
INGREDIENTS
1 ¾ cup unbleached flour
1 ½ teaspoon baking powder
1 teaspoon baking soda
½ teaspoon salt
½ teaspoon fresh grated nutmeg
1 ¾ cups buttermilk
½ cup unsalted melted butter
¼ cup granulated sugar
1 teaspoon vanilla extract
3 large eggs, separated
½ cup chopped, peeled USA Pears
3 USA Pears, peeled and sliced
½ cup pure maple syrup
¼ cup orange marmalade
DIRECTIONS
Preheat waffle iron on medium high heat. Preheat oven to 200 degrees.
In a medium bowl, whisk flour, baking powder, soda, salt, and nutmeg. In another bowl, whisk together buttermilk, butter, sugar, vanilla, and egg yolks. Slowly whisk the flour mixture into the buttermilk mixture.
In the bowl of a standing mixer, whip egg whites until stiff. Fold 1 cup of egg whites and chopped pears into buttermilk-flour mixture. Fold in remaining egg whites.
Pour about ⅓ cup of batter into each well of the waffle iron and close the lid. Cook the waffle until golden brown and crisp, about 5 minutes. Keep warm in oven and continue to bake remaining waffle batter.
Meanwhile, in a saucepan over medium heat, combine sliced pears, marmalade, and maple syrup. Heat until thoroughly warmed.
NUTRITION
Serving Size: 1 Waffle
Calories: 820
Carbohydrate: 123g
Dietary Fiber: 7g
Protein: 15g