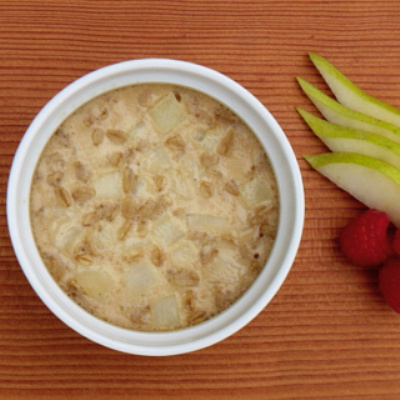 Chai-Spiced Baked Oatmeal with Poached Pears
A tasty and healthy Chai-Spiced, Baked Oatmeal with Poached Pears breakfast makes us happy and is a wonderful way to start your day full and satisfied. Made with deliciously sweet Bosc or Anjou pears. Developed by, Hilary Finch Hutler.
INGREDIENTS
2 cups milk
2 chai tea bags
2 large eggs PLUS 2 egg yolks
⅓ cup packed brown sugar
1 cup heavy whipping cream
⅛ teaspoon salt
1 ¼ cups old-fashioned oats
1 firm ripe USA pear, such as Bosc or Anjou
1 ripe USA pear, such as Concorde or Anjou
½ cup fresh berries, such as raspberries or blueberries
DIRECTIONS
Preheat oven to 325 degrees. Pour the milk into a medium saucepan and warm over medium heat until steaming. Add the teabags, cover, and steep for 5 minutes. In the meantime, combine the eggs and yolks in a small bowl and whisk thoroughly with a fork. Once the tea has infused the milk, remove and discard the teabags. Add the brown sugar to the hot milk and stir to dissolve. Next, add the cold whipping cream, followed by the beaten eggs and the salt, and whisk thoroughly to combine. Set the mixture aside.
Divide the oats evenly between six 6 – 8 ounce ramekins. Peel the firm pear and cut into ½ inch cubes (if your pear is still quite firm, try dicing into even smaller cubes so that it will become soft during baking). Divide the pear cubes between the ramekins. Lastly, pour the custard into the ramekins atop the oats and pear, filling all of the ramekins evenly. Place the ramekins in a baking pan and pour boiling water into the pan so that it comes halfway up the sides. Cover loosely with foil and carefully transfer to the preheated oven.
Bake for 20 minutes, and then check the custards for doneness. This is most easily achieved by pulling back the foil and very gently shaking the pan. If the centers are still jiggly, they need more cooking time. Continue to check every 5 minutes until the centers are just set. Once set, carefully remove the pan from the oven and then remove from the hot water bath individually using tongs or a kitchen towel. Serve the baked oatmeal hot or warm with slices of fresh, ripe pears and a few of your favorite berries.
NUTRITION
Serving Size: 8 oz
Calories: 440
Carbohydrate: 53g
Dietary Fiber: 6g
Protein: 11g