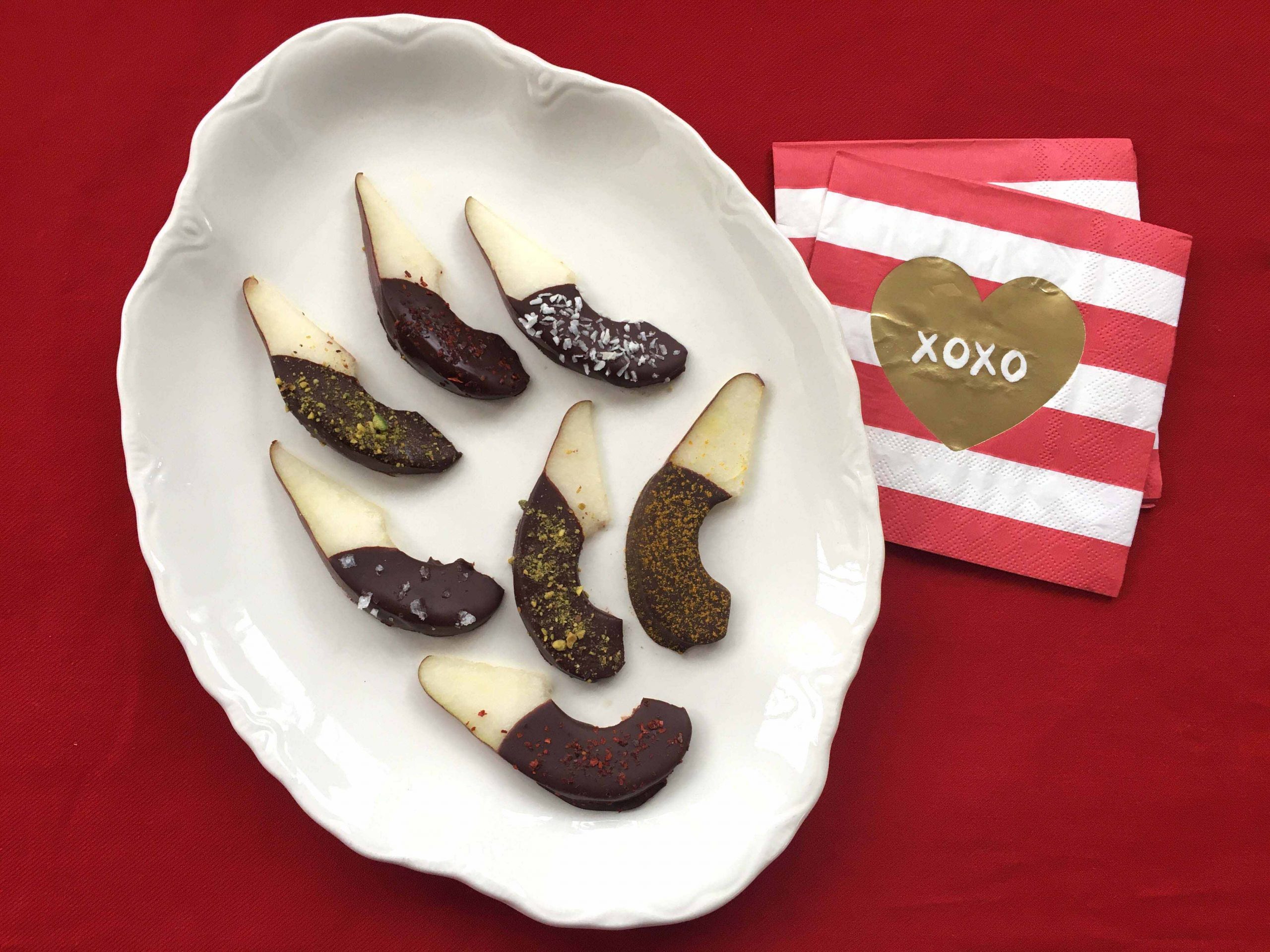 Dark Chocolate Dipped Pears
Move over strawberries— there's another fruit that tastes amazing when dipped in chocolate! Rich dark chocolate pairs perfectly with Red Anjou pears, which just so happen to be heart-check certified by the American Heart Association. Decorate your dipped pears with a variety of creative options for sprinkling, like nuts, coconut flakes, and even vivid red chile powder for a kick.
INGREDIENTS
2 USA Red Anjou pears (about 1 pound)
1 teaspoon Fruit-Fresh® Produce Protector
8 ounces dark chocolate (60 to 70% cacao), chopped
Options for Sprinkling:
Finely chopped pistachios or other nuts
Flaky sea salt
Shredded coconut
Chile powder
Curry powder
Sesame seeds
DIRECTIONS
Chopped colorful dried fruit, such as apricots, cranberries, or goji berries
Fill a medium saucepan with about 1 inch of water and bring it to a simmer over medium-high heat. Line a baking sheet with wax paper.
Halve, core, and stem the pears and cut each one into 16 wedges. Sprinkle with the Fruit-Fresh and toss the pears gently to coat evenly. (This will prevent the cut pears from browning for several hours.) Arrange the pears on the prepared baking sheet and place it next to the stove.
Place the chocolate in a medium stainless-steel bowl and set the bowl over the pan of simmering water. (Make sure the water doesn't touch the bottom of the bowl.) Once the chocolate begins to melt, stir until melted and smooth, about 3 minutes. Remove the chocolate from the heat.
Immediately begin dipping the wide ends of the pears in the chocolate, coating about half the length. Allow the excess chocolate to drip back into the bowl and place the dipped pears on the wax paper. Working quickly before the chocolate dries, sprinkle with your choice of the optional garnishes. Refrigerate, uncovered to allow the chocolate to set, about 1 hour.
Once set, cover loosely with plastic wrap and keep the pears in the refrigerator until served. Enjoy them within the day.
NUTRITION
Serving Size: 1 Small Slice (20g)
Calories: 60
Carbohydrate: 6g
Dietary Fiber: 1g
Protein: 1g