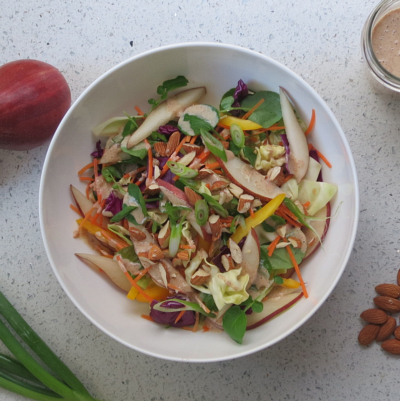 Crunchy Vegetable and Pear Salad
This tasty salad is full of crisp, colorful vegetables and sweet Red Anjou Pears. Toss it with my almond butter-based dressing (sweetened with dates instead of refined sugar), and enjoy it as a quick lunch or an easy dinner side.
INGREDIENTS
For the Almond Butter – Date Dressing

3 tablespoons unsalted almond butter

3 tablespoons rice wine vinegar

2 Medjool dates, pitted and finely chopped

½ cup water

½ teaspoon sea salt
For the Salad
4 packed cups chopped cabbage (red and/or green)
1 medium carrot, julienned or grated
1 yellow pepper, thinly sliced
3 scallions, sliced thinly on a diagonal
1 bunch watercress
2 firm USA Pears, such as Red Anjou, thinly sliced
¼ cup roasted almonds, roughly chopped
DIRECTIONS
For the Almond Butter – Date Dressing
Combine all of the ingredients in a blender and puree until smooth. Set the dressing aside until ready to use.
…..
For the Salad
In a large bowl, combine all of the salad ingredients except for the almonds. Drizzle with the dressing and toss gently to coat. Sprinkle the almonds over the top and serve.
NUTRITION
Serving Size: 3 Cups (204g)
Calories: 170
Carbohydrate: 25g
Dietary Fiber: 6g
Protein: 5g