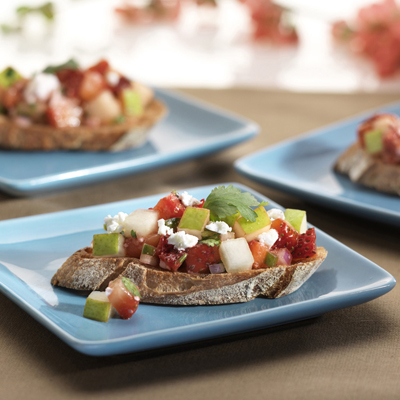 Crostini with Feta and Pear-Strawberry Salsa
Mediterranean and Latin flavors combine in a pear-fect flavor combination. Fresh pears and strawberries are the stars of this slightly spicy salsa, which is combined with mild and salty feta cheese and served atop a crisp toast. This recipe is ideal for entertaining, whether for a casual backyard barbecue or an elegant soiree.
INGREDIENTS
2 Green Anjou USA Pears, diced in ¼-inch cubes
2 tablespoons fresh lime juice
1 cup coarsely chopped fresh strawberries
¼ cup finely chopped red onion
2 tablespoons finely chopped jalapeno
¼ cup finely chopped fresh cilantro leaves
1 tablespoon olive oil
½ cup mild feta cheese or ricotta salata
Salt to taste
Baguette or french bread cut in ¼-inch thick slices, brushed with olive oil and toasted
Whole cilantro leaves for garnish
DIRECTIONS
Toss diced pear with lime juice and let sit a few minutes before adding strawberries, red onion, jalapeno, cilantro and olive oil.
Just prior to serving, crumble feta cheese into salsa. Taste and season with salt if necessary.
Spoon salsa onto toasts and arrange on serving platter. Garnish each crostini with a cilantro leaf.
NUTRITION
Serving Size: 1 Crostini (115g)
Calories: 170
Carbohydrate: 27g
Dietary Fiber: 3g
Protein: 6g