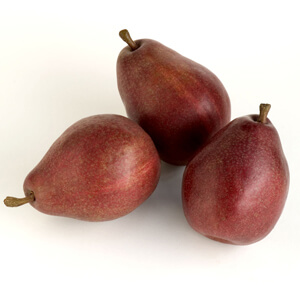 Chicken Breasts with Spicy Pear Salsa
Spice up your dinner with this spicy pear salsa over pan-fried chicken breasts. The salsa can also be chilled and served with tortilla chips or toasted baguette slices.
INGREDIENTS
1 firm but ripe Red Anjou USA Pear, peeled, cored, and chopped
¼ cup diced sweet onion
2 tablespoons chopped fresh cilantro
1 clove garlic, minced
2 teaspoons sliced jalapeno peppers, finely minced
2 boneless, skinless chicken breasts
3 tablespoons extra virgin olive oil
Salt and pepper
DIRECTIONS
In a small bowl, combine pear, onion, cilantro, garlic, and jalapeno peppers. Set aside.
Season chicken breasts with salt and pepper. Over medium high heat, heat olive oil in large skillet. Place chicken breasts into pan and brown well on each side. Cover pan and reduce heat to low. Keep covered until chicken is cooked through. Remove chicken from pan and place onto serving plates.
Heat pan over high heat, add salsa to the pan and quickly heat salsa while deglazing pan. Pour salsa over chicken breast and serve.
NUTRITION
Serving Size: 1 Breast (246g)
Calories: 440
Carbohydrate: 14g
Dietary Fiber: 3g
Protein: 39g