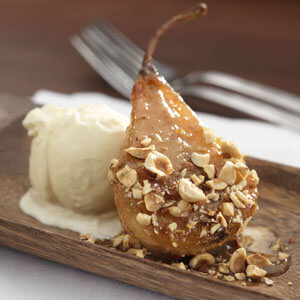 Caramelized Bosc Pears with Hazelnut Butter
Nationally renowned Chef Matthew Lightner of New York City's 
Atera
restaurant is known for his special flair with seasonal ingredients.  In this elegant-yet-approachable dish, Bosc pears are basted in caramel and served with homemade hazelnut butter and crunchy roasted hazelnuts. A scoop of good vanilla ice cream is the perfect complement to this fragrant and flavorful dessert.
INGREDIENTS
Caramelized Pears
3 firm, ripe Bosc pears
1 cup sugar
½ cup water
1 vanilla bean, split and scraped
¼ teaspoon cream of tartar or squeeze of fresh lemon juice
2 tablespoons unsalted butter
Hazelnut Butter
¾ cup hazelnuts, lightly toasted and skinned
2 tablespoons olive oil
2 tablespoons granulated sugar
½ teaspoon salt
Good quality ice cream or whipped cream (optional)
DIRECTIONS
Peel and halve the pears, leaving the stem intact on one of the halves. Set aside.
To make the caramel, place the sugar, water, and vanilla bean seeds in a nonreactive, shallow, wide, heavy-bottomed saucepan with a lid. Add the cream of tartar or lemon juice and stir together until the sugar is completely moistened. Heat the mixture over medium heat, covered, until the sugar has completely dissolved and the syrup begins to bubble. Remove the lid, increase the heat slightly and allow the syrup to boil undisturbed until it turns golden in color. Add the butter and swirl until combined and color is uniform.
Carefully place the pear halves in the caramel, cut side down. Cook over medium heat, occasionally basting the pears with caramel, until the sauce begins to attach itself to the pears and give them color, about 15 minutes. Carefully transfer the pear halves to a small sheet tray lined with foil or parchment paper and drizzle with the remaining caramel sauce. Cool at room temperature.
While the pears are cooling, make the hazelnut butter. Preheat the oven to 350 degrees and spread the hazelnuts on a small pan. Toast the nuts until they are lightly golden and aromatic, about 8 minutes. Cool completely, set aside ¼ cup and transfer the remaining ½ cup hazelnuts to a blender or food processor. Add the olive oil, sugar, and salt and blend briefly on low speed. Gradually increase the speed until a smooth paste forms, adding water a tablespoon at a time to achieve the right consistency, slightly looser than peanut butter. (The hazelnut butter should coat the back of a spoon.)
To serve, lightly crush the reserved hazelnuts with the back of a sauté pan being certain to leave them coarse. Drain excess caramel from pear halves, coat them with hazelnut butter and roll in the crushed nuts. Serve warm or at room temperature with vanilla ice cream or lightly whipped cream.
NUTRITION
Serving Size: 1 Half Pear (141g)
Calories: 370
Carbohydrate: 53g
Dietary Fiber: 4g
Protein: 3g