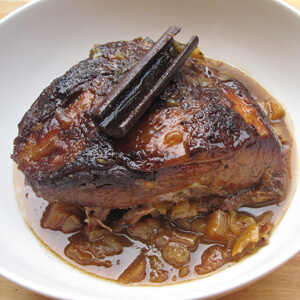 Braised Pork with Pears and Sherry Vinegar
My latest recipe is for a simple and delicious pear and pork dish that makes an incredible Sunday dinner. First, sear the pork and sauté the onion. Then add pears, cider, and spices, and transfer to the oven for three hours. This recipe will fill your home with the sweet smells of autumn as it simmers away all afternoon. - Hillary Finch Hutler, recipe blogger The Pear Dish and tummyrumblr.com
INGREDIENTS
1 (3-pound) hunk of pork shoulder
2 teaspoons coarse salt
3 tablespoons butter
Freshly ground black pepper
1 medium sweet onion, large dice
3 USA Pears, such as Red Bartlett or Anjou, large dice
4 whole cloves
2 cinnamon sticks
1 (12-ounce) bottle pear hard cider
1 cup chicken broth
2 teaspoons sherry vinegar
DIRECTIONS
Preheat your oven to 325 degrees. On the stovetop, warm a Dutch oven or other heavy-bottomed pot over medium heat. While the pot warms, season your pork shoulder on all surfaces with the salt and cracked pepper. Add the butter to the pot and when it is fully melted and begins to bubble, place the pork in the pot on one side and sear for 5 to 7 minutes or until it is medium brown. Once brown, turn the pork to a second side and continue until the meat is nicely browned on the second side. Remove the pork from the pan with tongs and set aside on a plate.
Into the same pan, add the onions and sauté for 4 to 5 minutes, stirring often, until they have begun to caramelize and stick to the bottom of the pan a bit. Pour in the cider and stir to bring up any tasty bits from the bottom of the pan. Return the pork to the pan, placing it right down into the center of the liquid with the fattiest side up (this will help keep it moist as it cooks). Be sure to pour in any juices that have accumulated on the plate as well.
Next, slide in the diced pears around the sides of the pan, and add the cloves and cinnamon sticks, nestling them down into the pears. Lastly, pour over the chicken broth so that the liquid comes up the sides of the meat ¾ of the way—add more broth if necessary. Cover the pot and increase the heat to high, bringing the liquids to a strong simmer. Once the liquid has simmered, carefully transfer the covered pot to your preheated oven.
Braise the pork and pears for three hours, checking on the pork at each hour mark and spooning some of the delicious sauce over the top each time. After three hours, remove the pot from the oven.
Carefully remove the pork from the sauce and place into a serving dish. Return the pot to the stovetop over medium-high heat and simmer, uncovered, to reduce the sauce to about two cups (this step may not be necessary if your sauce has already reduced sufficiently). Once the sauce has reduced, stir in the sherry vinegar and taste. There should be a nice balance of sweet from the pear and onion and tanginess/brightness from the vinegar. Add more vinegar if necessary. Pour the warm sauce over the hunks of pork shoulder and serve immediately.
NUTRITION
Serving Size: 9 oz
Calories: 480
Carbohydrate: 17g
Dietary Fiber: 4g
Protein: 46g