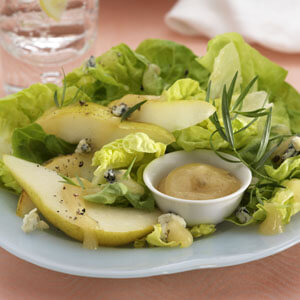 Bibb Lettuce Salad with Gorgonzola and Fresh Pear Dressing
Fresh pears are the star of this salad, a favorite menu item from the Heartline Café in Sedona, Arizona. In this creative showcase, aromatic Bartlett pears are pureed into a sweet-tart dressing as well as tossed in with crunchy Bibb lettuce. Crumbled Gorgonzola adds a savory flavor that is the perfect complement to sweet pears.
INGREDIENTS
3 large ripe Bartlett USA Pears, divided use
⅓ cup granulated sugar
½ teaspoon fresh tarragon or scant ¼ teaspoon dried
1-2 tablespoons cider vinegar
1 ½ tablespoons lemon juice
2-3 heads Bibb lettuce, rinsed and dried
4 ounces (1 cup) crumbed Gorgonzola or blue cheese
DIRECTIONS
Peel, core, and chop one pear. Place pear, ⅓ cup water, sugar, and tarragon in a small saucepan. Simmer over medium heat until pear pieces are soft, about five minutes, depending on ripeness of pear. Do not let all the water evaporate. There should be about ⅞ cup pear and liquid. Cool.
Pour pear and liquid into a blender and blend until smooth. Add part of the vinegar and lemon juice to taste. Taste and adjust sugar and acid to make a sweet-tart dressing, adding a little water if needed to thin. Refrigerate until cold.
Core and thinly slice remaining 2 pears. For each serving, arrange 3-4 lettuce leaves on a salad plate. Top with ⅓ of a sliced pear, 2-3 tablespoons Gorgonzola, and drizzle with 2 tablespoons dressing. Serve immediately.
NUTRITION
Serving Size: 7 oz
Calories: 200
Carbohydrate: 28g
Dietary Fiber: 4g
Protein: 8g
---
1 Comment » for Bibb Lettuce Salad with Gorgonzola and Fresh Pear Dressing