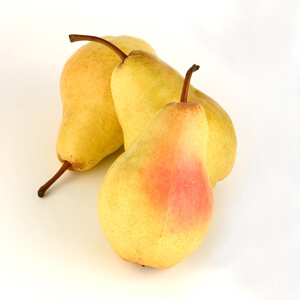 As a condiment, this relish encourages flavor from meat and fish dishes.
INGREDIENTS
6 fresh Bartlett USA Pears
1 cup sugar
1 cup white vinegar
2 teaspoons salt
¾ teaspoon cayenne pepper
2 large onions, finely diced
3 green peppers, diced
1 sweet red pepper, diced
DIRECTIONS
Core and finely chop pears. Combine sugar, vinegar, salt, and cayenne pepper. Bring to boil in large saucepan. Add pears, onions, and peppers. Bring to a boil again. Cook slowly for 25 to 30 minutes, stirring from time to time, until mixture is thick. Pour into hot sterilized jars and seal. Process according to jar manufacturer's directions.
yield: Makes approximately 5 half pint jars
NUTRITION
Serving Size: 1 TBSP
Calories: 20
Carbohydrate: 5g
Dietary Fiber: 1g
Protein: 0g
---
No Comments » for Bartlett Pear Relish