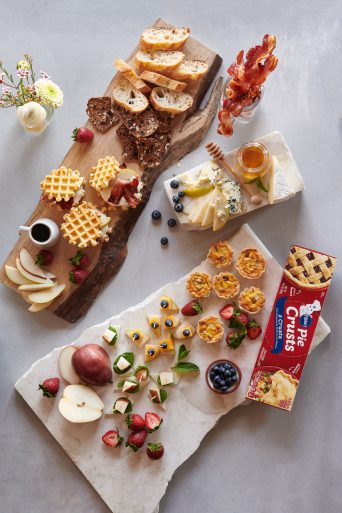 Do you ever crave the ease of a charcuterie board, but were tasked with making brunch for your spring holiday gathering? Well, we have a solution for you: brunch boards! And with the addition of pears to complement so many other ingredients, these are sure to be a hit and impress all your family and friends.
Step 1: The Board
The basis of them is easy: Start with a board (or large plate, or piece of marble, or just lay some parchment paper on your table, we don't judge here). Really any large surface you have on hand will be perfectly fine.
Step 2: Fill the Board!
Here you can be creative and fill it with your favorite brunch foods! Obviously, you need to have pears and some cheese. Here are our favorite PEAR-ings:
Anjou + Chevre
This goat cheese is mild with a soft texture, and tangy finish. It's perfect because it'll complement the sweet and fragrant Anjou without overpowering it. And if you want a seamless way to combine them, check out our mini chevre cheesecakes for a sweet addition.
Bosc + Cheddar
Since Bosc pears are denser with a spicy-sweet flavor, they'll hold up perfectly against the cheddar's firmness and nutty flavor.
Bartlett + Mascarpone
This rich and spreadable cheese has a beautiful buttery texture that is sure to pair perfectly with the juicy Bartlett.
Did you know bacon and pears also go exceptionally well together? The salty crispiness of bacon is a great contrast to a juicy pear and brings out the sweetness of the fruit!
Make your board stand out! Height in a brunch board can make the presentation much more interesting. Some of our recommendations are to place your bacon in a jar or other container so it stands upright, or using skewers of a slice of pear, some cheese, and a berry to add some dimension.