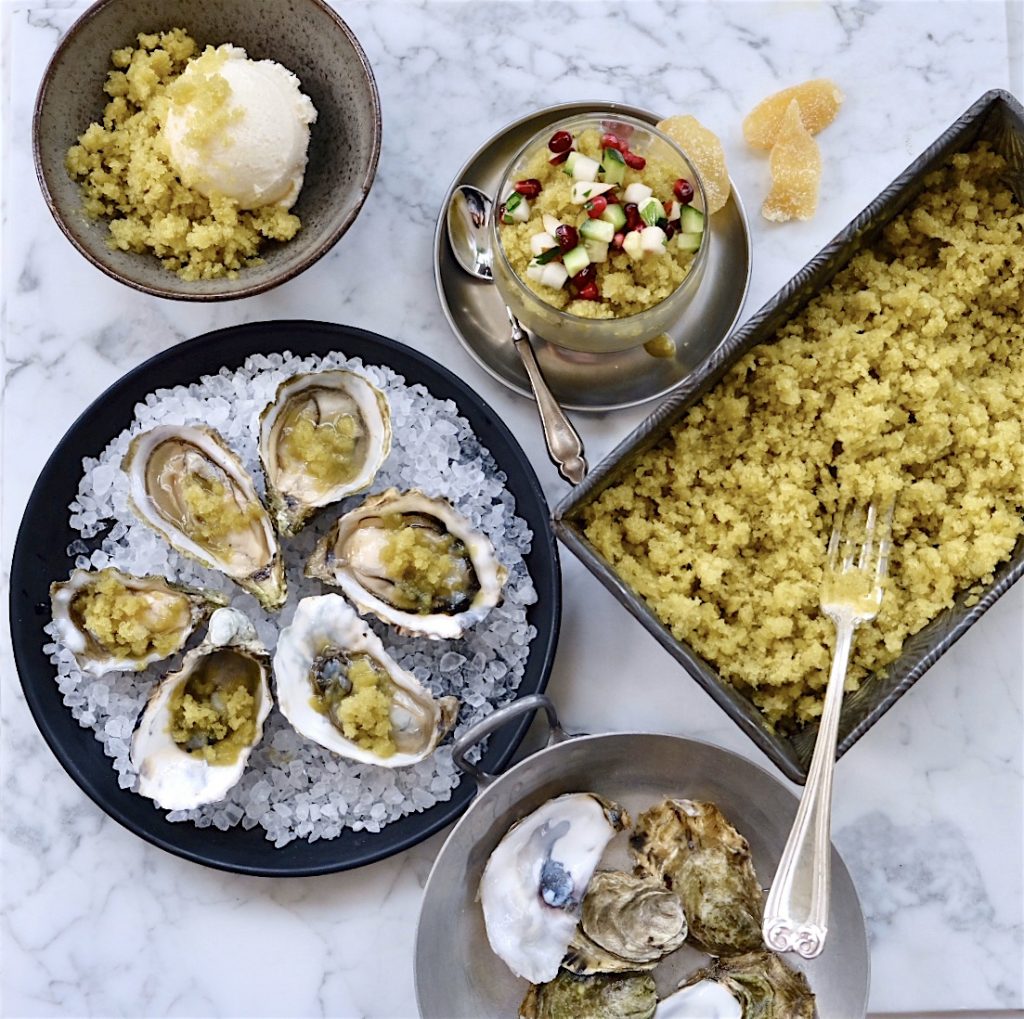 As we enter the depths of winter, after the holiday rush has slowed to steady daily routines, we take pleasure in things with a simpler, more nourishing feel. Enter granita, the flavor-rich frozen treat that is Italy's answer to French sorbet or Hawaiian shave ice.
Perhaps it's most often served as a refreshing end to a rich meal, but that's not the end of its capabilities. After all, this recipe is simply a mixture of lusciously ripe fresh pears sweetened with a touch of honey, accentuated by a squeeze of lemon and a pinch of salt, and enhanced with the addition of matcha powder for green tea flavor and color, which also lends a smooth texture to the fluffy ice. Yes, it's delicious served all on its own to finish dinner, but consider the options. Freshly shucked oysters benefit from a dollop to bring out the sweet and briny flavors. It's also a traditional topping for a scoop of vanilla ice cream, with the two frozen textures—one cream, one crunchy—playing yin and yang to one another. Perhaps my favorite way to eat granita is with a fresh topping of finely chopped pears, cucumber, and mint, mixed with lime juice and pomegranate seeds—a refreshing and delicious dessert indeed, yet not overly indulgent.
Serves 6 to 8
Ingredients:
2 ripe USA Bartlett, Green Anjou, or Comice pears
2 tablespoons honey
Juice of 1/2 large lemon
1 1/2 teaspoons matcha green tea powder
Pinch of sea salt
Directions:
Peel, core, and coarsely chop the pears and put them in a blender. Add the honey, lemon juice, matcha powder, and salt. Blend on high until completely smooth, about 1 minute. Pour the mixture into a shallow baking dish, such as a cake pan or bread loaf pan. Cover with plastic wrap and place the pan in the freezer until the mixture is frozen solid, at least 2 and up to 4 hours.
Using a fork, scrape the frozen granita into fluffy crystals. Spoon into small bowls, or serve as desired.
Recipe, Photos and Styling: Andrea Slonecker (@andreaslonecker)
Want more pear recipes? Visit our recipe page!
Make sure to follow USA Pears on Facebook, Twitter and Instagram for all things pears!