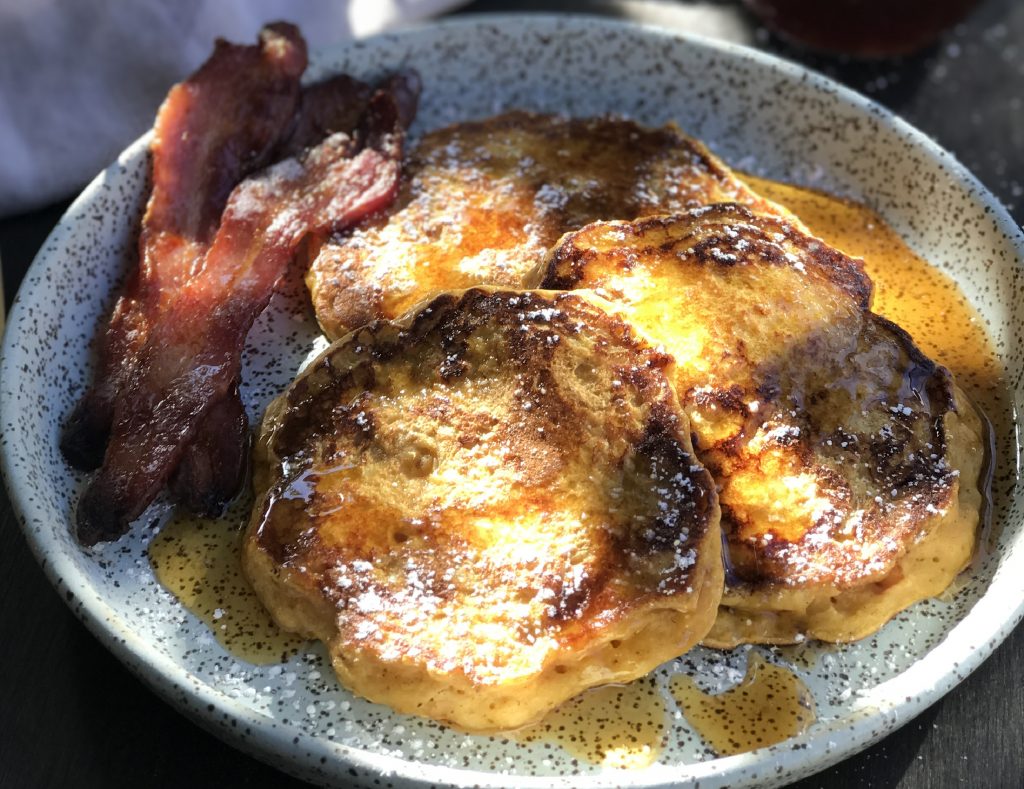 Chilly fall mornings are back! Before bundling up the family for a trip to the pumpkin patch, fill them up with a hearty breakfast that celebrates the season. Grated pears add sweetness to a fall favorite, pumpkin pancakes, limiting the sugar and bumping up the nutrition. Here it's best to use a tender, juicy pear variety that is on the sweeter side, such as Bartlett, Comice, Anjou, or Starkrimson. To top it off, pear cider is cooked down with maple syrup to make a simple yet delicious all-natural syrup for drizzling. Serve with bacon and eggs for a complete brunch while entertaining houseguests when the holidays roll around. These fluffy flapjacks are sure to be a new family favorite.
Makes 12 pancakes (serves 4 to 6)
Pancakes
1 1/4 cups all-purpose flour
1 tablespoon packed brown sugar
1 teaspoon baking powder
1/4 teaspoon baking soda
1/2 teaspoon ground cinnamon
1/4 teaspoon ground ginger
1/4 teaspoon freshly grated nutmeg
1/4 teaspoon kosher salt
3/4 cups plus 2 tablespoons buttermilk
1/2 cup pumpkin purée
1 large egg
1/2 teaspoon pure vanilla extract
2 ripe USA Pears, coarsely shredded
Syrup
2 cups pear cider
1 cup maple syrup
2 cinnamon sticks
For Serving
Unsalted butter
Powdered sugar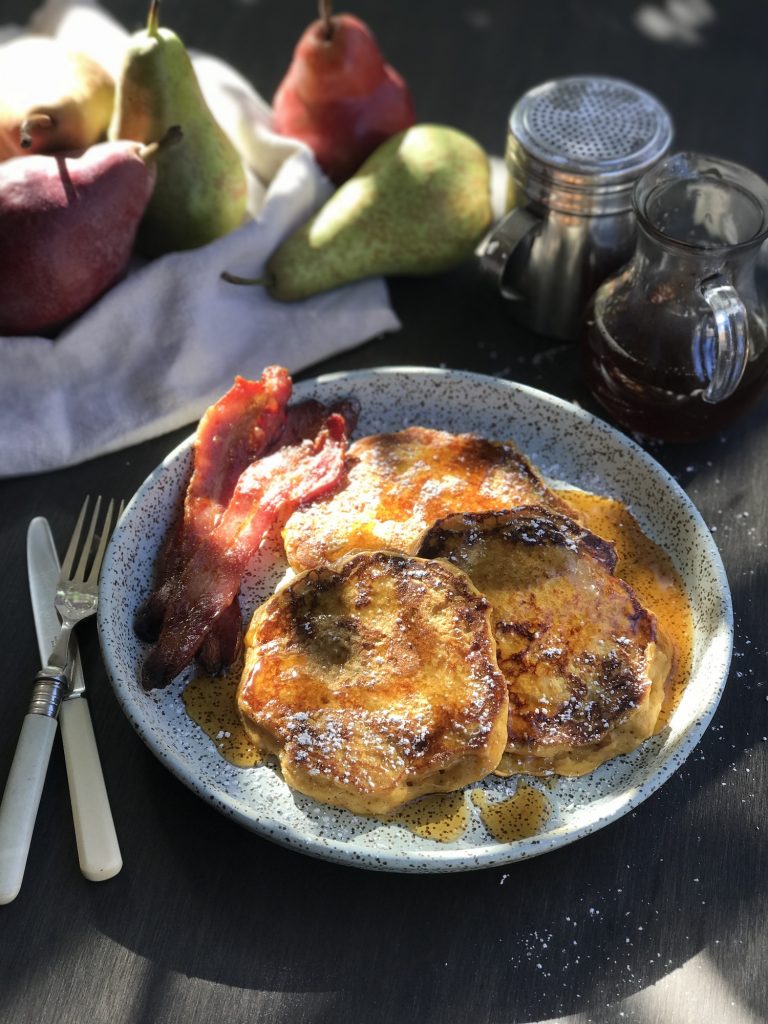 To make the pancakes: In a medium mixing bowl, whisk the flour, brown sugar, baking powder, baking soda, spices, and salt.
In a separate mixing bowl, whisk the buttermilk, pumpkin purée, egg, and vanilla until well combined. Stir in the shredded pears.
Fold the wet mixture into the dry ingredients until mostly combined. Set the batter aside for 10 to 20 minutes.
To make the syrup: In a medium saucepan over medium heat, bring the cider, syrup, and cinnamon sticks to a boil. Simmer until the mixture reduces by about half and is slightly thickened, 15 to 20 minutes. Remove the cinnamon sticks and keep the syrup warm.
To cook the pancakes: Preheat the oven to 150 to 200˚F to keep the pancakes warm while cooking in batches.
Heat a large cast-iron skillet or griddle over medium-high heat and melt about 1 tablespoon of butter, swirling it around to coat the pan. Add 1/4 cup portions of batter to the pan, gently spreading it out with the bottom of the measuring cup. Lower the heat to medium and cook until the bottoms are nicely browned, 1 to 2 minutes, then flip and continue cooking on the second side, 2 to 2 1/2 minutes more. Transfer the pancakes to the warm oven, and repeat to cook additional batches.
Serve the pancakes with pats of butter, a sprinkling of powdered sugar, and the warm cider syrup drizzled on top.