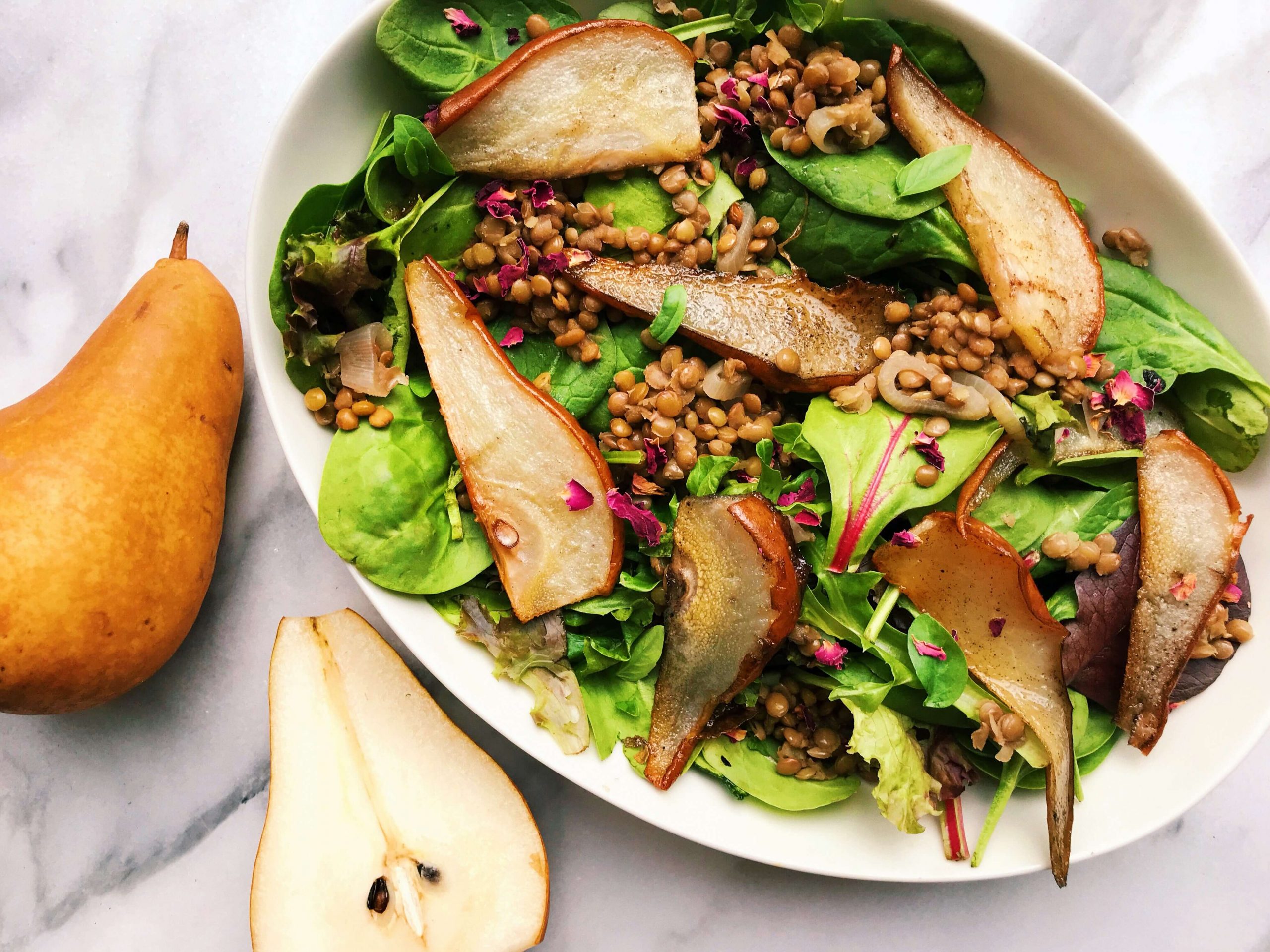 Warm Greens with Balsamic Lentils and Roasted Pears
Here is a hearty salad to warm and nourish you. Honey sweet roasted pears and tangy balsamic lentils are tossed with winter greens to make this simple and balanced meal. Serve the salad while still warm, but be sure to save the leftovers - this salad will be delicious straight from the refrigerator the next day after the flavors have continued to meld. If you desire a little more richness, try topping the salad with long curls of parmesan cheese. Developed by Hilary Finch Hutler of tummyrumblr.com for USA Pears.
INGREDIENTS
For the salad:

2 bunches or heads of winter greens, such as kale, escarole, radicchio, or dandelion greens, washed, dried, and torn into large pieces

For the lentils:

2 teaspoons olive oil

1 small sweet onion, cut into half rings

½ teaspoon salt

freshly ground black pepper

¼ cup balsamic vinegar

¾ cup brown lentils, rinsed

1 cup cold water

For the roasted pears:

2 firm ripe USA Pears, such as Red Anjou, cut into wedges

2 teaspoons olive oil

2 teaspoons honey

6 – 8 sage leaves, torn
DIRECTIONS
Preheat the oven to 375 degrees. Prepare the greens and transfer to a large bowl. Place a saucepan over medium heat. Once hot, add the olive oil, onions, salt, and pepper, and saute until the onions are beginning to caramelize, about 5 minutes. Add the vinegar to deglaze the pan, stirring to pick up any bits that may be stuck to the bottom. Cook until the vinegar reduces and the pan is nearly dry, about 3 minutes. At this time, add the lentils and the water, cover, and bring to a boil. Once boiling, reduce the heat to medium low and simmer for 15-18 minutes, or until the lentils are al dente.
In the meantime, prepare the pear slices by spreading them out onto a sheet pan. Stir the olive oil and honey together and drizzle over the pears. Add the sage leaves, toss the pears gently with the mixture, and transfer to the oven. Roast the pears for 12-15 minutes, or until just tender.
When the lentils are done to your liking, pour them atop the winter greens while still hot. Using tongs, toss the lentils and the greens together until the greens are softened and glossy. Transfer the mixture to a clean bowl or platter and drizzle with a little more olive oil. Top the warm salad with the roasted pears and sage leaves and serve immediately.
NUTRITION
Serving Size: 10 oz
Calories: 310
Carbohydrate: 54g
Dietary Fiber: 18g
Protein: 14g