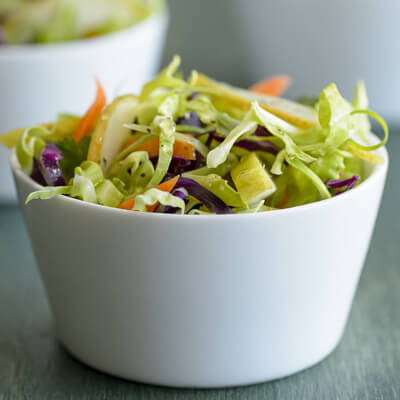 Tangy Pear and Cabbage Slaw
INGREDIENTS
For the slaw:
2 cups shredded red cabbage (½ small cabbage)
1 cup shredded green cabbage (or kale)
1 ripe but firm yellow Bartlett pear, sliced thinly, tossed with a squeeze of lemon juice
1 cup matchstick sliced carrots (about 2 carrots)
3 ea. green onions, sliced thinly to match carrots
½ cup cilantro leaves with stems (inner thin stalks)
Apple cider vinaigrette:
3 T. salad oil
2 T. honey
2 T. apple cider vinegar
1 T. fresh lime juice (about 1 lime)
salt/pepper to taste
dash of cayenne pepper
DIRECTIONS
Lightly toss salad ingredients together.
Put vinaigrette ingredients into a small jar and shake till combined. When ready to serve, dress salad with vinaigrette. Serve immediately.
To make ahead-prepare salad ingredients in a bowl, holding out the pear, cover with a damp paper towel, and chill in the refrigerator up to a few hours. Slice and add the pear just before tossing the salad with dressing.
NUTRITION
Serving Size: 1 Cup
Calories: 120
Carbohydrate: 16g
Dietary Fiber: 3g
Protein: 1g
---
2 Comments » for Tangy Pear and Cabbage Slaw