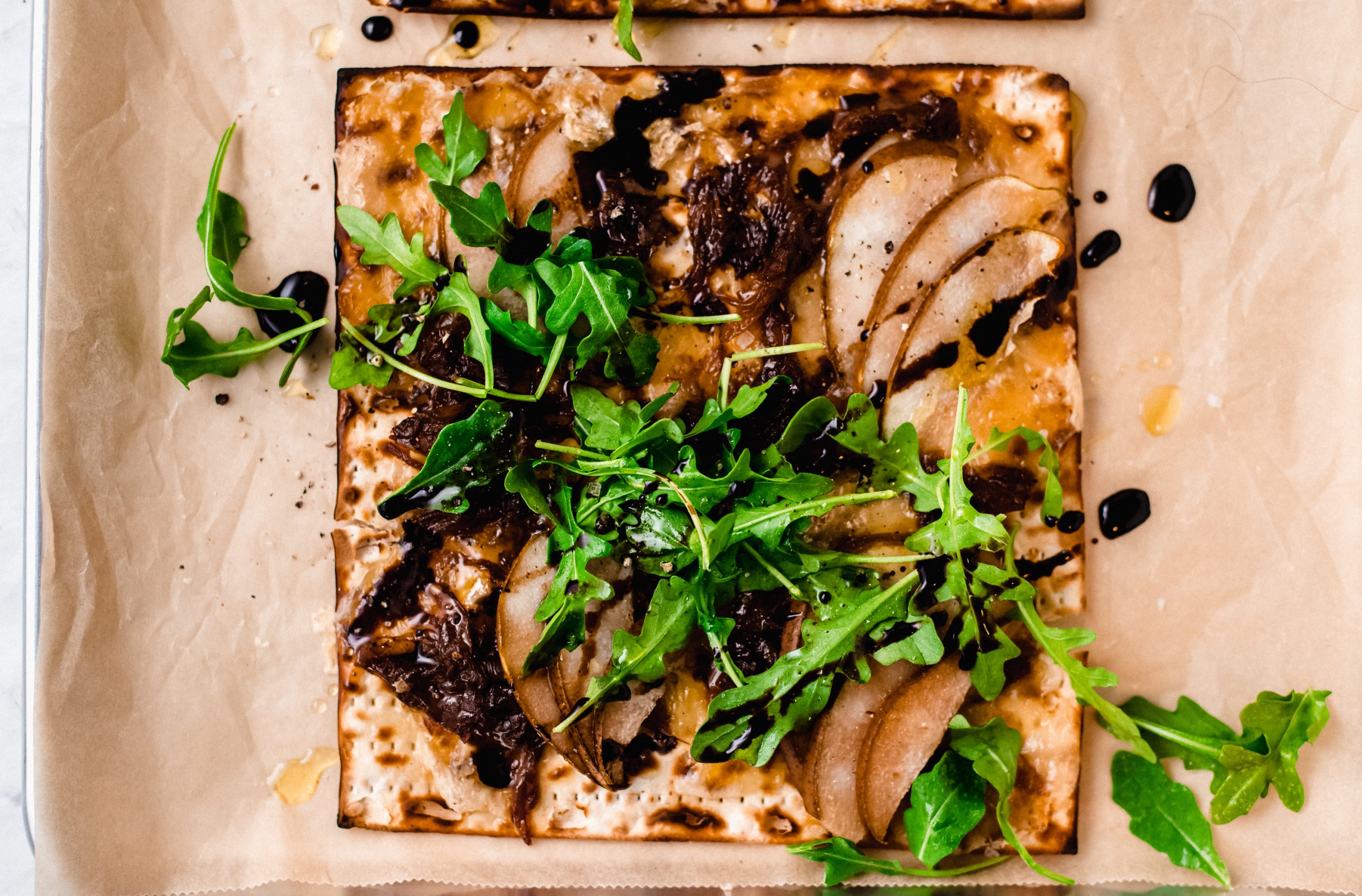 Savory Matzo Pizza with Pears and Carmelized Onions
We live for a savory matzo pizza during Passover, and when it's topped with melty brie cheese, caramelized onions and slices of sweet pears, it doesn't get any better than this!
INGREDIENTS
2 Matzos
6 ounces brie cheese, roughly torn
½ cup caramelized onions (recipe below)
1 green D'Anjou pear, core removed and sliced thin
1 cup fresh arugula
Olive oil, for drizzling
Balsamic vinegar, for drizzling
Course sea salt
Ground black pepper
Caramelized Onions
2 tablespoons Grapeseed oil or avocado oil
4 sweet onions, sliced thin
Kosher salt
DIRECTIONS
For the caramelized onions, place a wide skillet over low-medium heat and drizzle with oil. Add sliced onions and stir around. Place a lid on the skillet and cook for 30 minutes, stirring every so often.
Remove lid and cotinine cooking the onions until they darken in color, soften and become jammy, for another 30-40 minutes.
Once the onions turn to a deep amber color and are incredibly soft and jammy, remove from heat and set aside.
For the matzo pizza, preheat oven to 400 degrees Fahrenheit and lay matzo on a baking sheet.
Scatter pieces of brie all over the matzos along with caramelized onions and sliced pear.
Drizzle with olive oil and bake for 10 minutes until the pears are tender and cheese melted.
Remove from oven and top with fresh arugula and another drizzle of olive oil and balsamic vinegar. Finish with a sprinkle of course flakey sea salt and ground black pepper.
NUTRITION