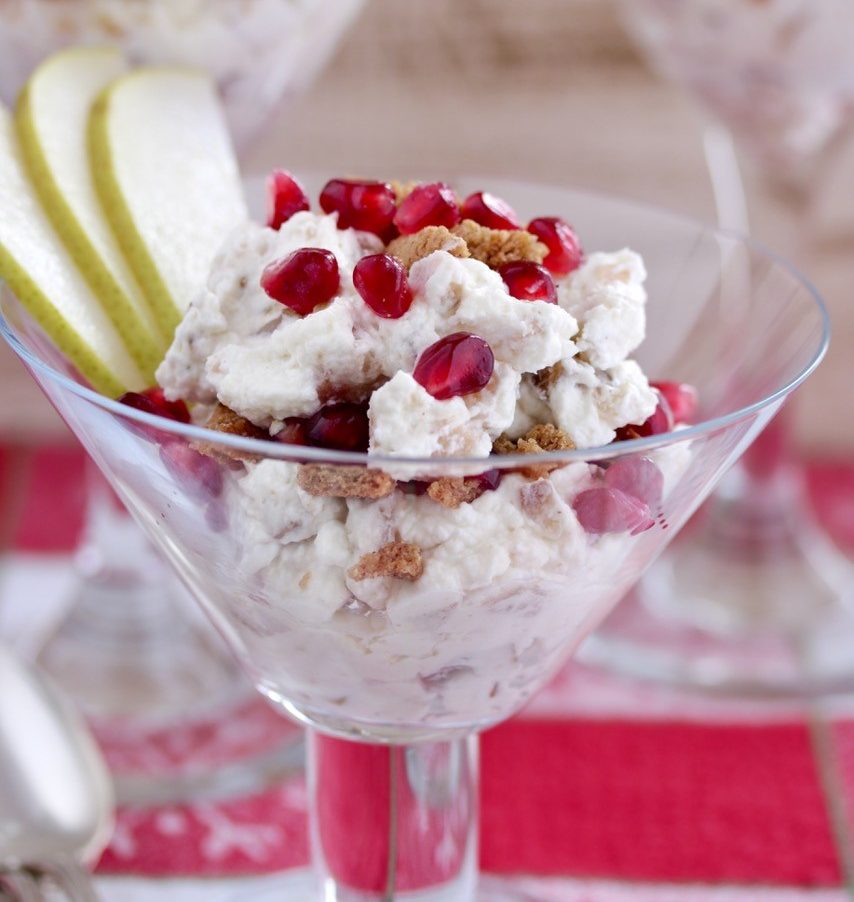 Dip your spoon into this creamy, crunchy, spicy and juicy dessert. The caramelized pears add a fresh intense sweetness that "pears perfectly" with the warm spices of the gingersnaps and slight bitterness of the orange marmalade. This recipe can be made a day in advance and checks off all the boxes for festive, easy and delicious. Recipe and photography by Good Grief Cook.
INGREDIENTS
3 ripe USA pears
2 tablespoons melted butter
2 tablespoons honey
½ cup heavy cream
¼ cup mascarpone cheese
2 tablespoons powdered sugar
2 tablespoons orange marmalade
½ cup crumbled ginger snap cookies
¼ cup pomegranate seeds
DIRECTIONS
Heat oven 400F.
Line a baking sheet with foil and lightly coat with non-stick cooking spray.
Core, peel and dice 2 pears. Toss pears with butter and honey, spread over prepared baking sheet. Bake for 10 to 15 minutes or until pears are caramelized; cool.
In a large bowl, with an electric mixer on low speed, combine heavy cream, mascarpone, powdered sugar and marmalade until blended. Increase mixer speed and beat to just stiff peaks.
Fold in cooled pear mixture.
Layer half the pear fool mixture over the bottom of 4 serving glasses. Reserve 2 tablespoons of the crumbled cookies for garnish.
Sprinkle the remaining cookies evenly over the pear fool.
Sprinkle with half the pomegranate seeds.
Dollop remaining pear fool on top.
Sprinkle evenly with remaining cookies and pomegranate seeds.
Thinly slice the remaining pear. Garnish each serving with a fan of pear slices.
NUTRITION