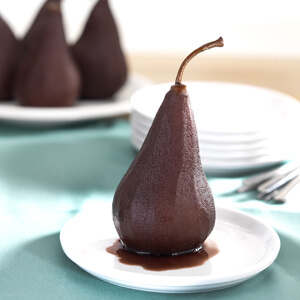 Simple and delicious, poached Bosc pears retain their distinctive buttery flavor and are firm enough to maintain shape. Lightly used, spices add their voice to this dessert, served warm or chilled.
INGREDIENTS
1 ¼ cups packed brown sugar
2 ½ cups dry red wine
1 ½ cups water
3 whole cloves
1 stick cinnamon
6 ripe Bosc USA Pears, peeled and cored
DIRECTIONS
Dissolve sugar into wine and water. Add cloves and cinnamon stick. Pears may be poached whole, or cut in half and poached. Add pears to wine mixture and heat until just simmering.* Lower heat and poach gently for 20 to 25 minutes. Remove from heat and allow to stand in poaching liquid overnight. Gently remove them from the poaching liquid and drain briefly on paper towels.
Serve with crème anglaise, whipped cream, or a reduction of the poaching liquid. Garnish with fresh mint. To reduce poaching liquid, boil until liquid is reduced by ⅔ or becomes a light syrup.
*You may poach 2 or 3 pears at a time, removing when poached and adding rest of pears or halves.
NUTRITION
Serving Size: 1 Pear
Calories: 200
Carbohydrate: 32g
Dietary Fiber: 6g
Protein: 1g
---
1 Comment » for Poached Bosc Pears