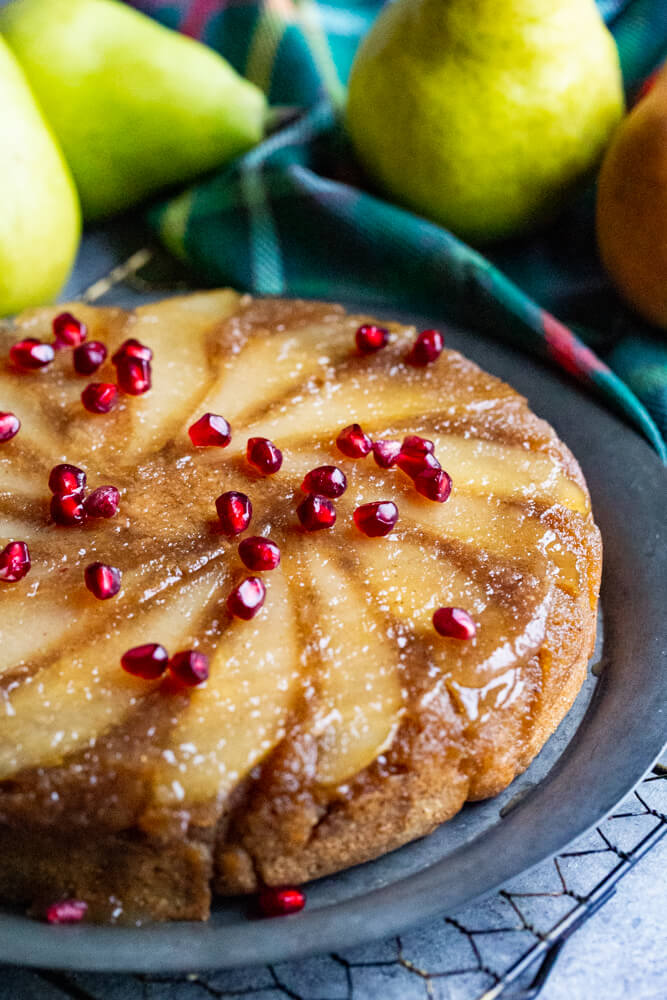 Pear Upside Down Cake puts a seasonal twist on a traditional favorite. Swapping pineapple for sweet and juicy pears delivers lots of festive flavor. Not to mention a stunning presentation that is perfect for your holiday table. This cake is moist and sweet, with cozy and comforting flavor of cinnamon and Chinese Five Spice. And the caramelization of the pear is truly delectable. So pretty and so tasty, this is one sweet treat you'll be coming back to again and again, all season long. Recipe by The Seaside Baker (https://theseasidebaker.com/).
INGREDIENTS
1/4 cup butter melted
1/2 cup brown sugar firmly packed
1 large pear peeled, cored, and thinly sliced
1/2 cup butter softened to room temperature
1/2 cup brown sugar
2 eggs room temperature preferred
1 teaspoon vanilla extract
1 1/2 cups all-purpose flour
1 1/2 teaspoons baking powder
1/4 teaspoon salt
1 teaspoon cinnamon
1 teaspoon Chinese Five Spice
1/2 cup buttermilk
DIRECTIONS
Heat oven to 350°F. In an 8 or 9-inch round cake pan, melt butter in oven. Sprinkle brown sugar evenly over butter. Arrange pear slices on brown sugar.
To make the cake base, cream butter and brown sugar until soft and fluffy.
Add eggs, one at a time, scraping down the bowl in between. Beat on medium high speed until eggs are fully incorporated.
Beat in vanilla.
In a separate bowl, whisk together flour, baking powder, salt, cinnamon, and Chinese five spice.
Gradually add the dry ingredients to the butter mixture, while alternately adding buttermilk. Beat on low until just combined.
Spread batter evenly over pears.
Bake for 22-25 minutes or until toothpick inserted in center comes out clean. Immediately run knife around side of pan to loosen cake. Place heatproof serving plate upside down onto pan; turn plate and pan over. Cool 30 minutes. Serve warm or cool. Store covered in refrigerator.
NUTRITION
Serving Size: 1 Slice (118g)
Calories: 390
Fat: 20g
Carbohydrate: 50g
Dietary Fiber: 2g
Protein: 5g
---
1 Comment » for Pear Upside Down Cake