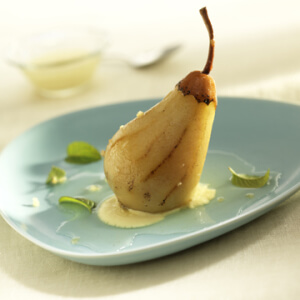 This elegant pear dessert was developed by Chef Asher Miller of AZ Canteen in Minneapolis, MN.
INGREDIENTS
Wine Poached Pears
4 Bosc pears
2 cups white port wine
2 cups Riesling wine
½ cup granulated sugar
2 bay leaves
¾ teaspoon black peppercorns
½ vanilla bean pod
Crème Brulée
1 cup heavy cream
2 tablespoons granulated sugar
1 teaspoon ground ginger
¼ teaspoon vanilla extract
¼ teaspoon salt
3 egg yolks
Ginger Syrup
1 cup granulated sugar
1 cup water
½ cup fresh ginger, peeled and finely chopped
½ vanilla bean
Garnish
Granulated sugar
Mint sprigs
Crystallized ginger
DIRECTIONS
Peel pears, leaving stem and a little skin around tops. In a saucepan just big enough to fit 4 pears, add wines, sugar, bay leaves, peppercorns and vanilla pod; bring to a boil. Add pears and a little water if needed to completely immerse them. Reduce heat, cover and simmer until pears are just tender. Cool pears and liquid separately. Return pears to liquid and refrigerate until chilled.
Combine cream, sugar, ginger, vanilla and salt in a medium saucepan. Bring to a simmer. Whisk egg yolks in a small bowl. Whisk about 1/2 cup of the hot cream mixture into yolks. Return yolks to pan. Whisk over very low heat until mixture starts to thicken (165-170ºF). It should coat the back of a spoon and leave a line when finger is run across the spoon. Strain through a fine mesh strainer. Refrigerate until cold. Combine sugar, water, ginger and vanilla bean in a small saucepan. Bring to a boil, and simmer about 10 minutes until slightly reduced and syrupy. Strain. Chill. (Use leftover syrup to sweeten beverages.)
To serve: Remove pears from liquid and pat dry with paper towel. Cut bottom of pears if needed so they sit straight on plates. Using a melon baller or paring knife, core pears from the bottom, make a small hole for the crème brulée. Fill pear with a spoonful of crème brulée and place on serving plates. Sprinkle a little granulated sugar over pears. Using a torch, caramelize the sugared pears. Drizzle with ginger syrup, garnish with mint sprig and candied ginger. Serve immediately passing remaining crème brulée.
NUTRITION
Serving Size: 1 Pear
Calories: 780
Carbohydrate: 116g
Dietary Fiber: 6g
Protein: 4g