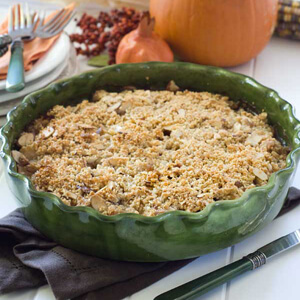 Pear Cranberry Almond Crumble
Says blogger Carol Kicinski, the brains behind this luscious recipe, "Gluten-free, dairy-free, sweet, crunchy and best of all, simple, this crumble is special enough for a Thanksgiving feast but easy and homey enough for a weeknight dinner." Can't you already just smell this baking in your own oven?
INGREDIENTS
1/2 cup pear nectar or apple juice
1 tablespoon freshly squeezed lemon juice
1 tablespoon cornstarch or arrowroot powder
1/2 teaspoon plus 1 small pinch kosher or fine sea salt – use divided
5 medium USA Pears, cored, peeled and cut into 1/4-inch slices
1/2 cup dried cranberries
1 1/2 cups finely ground blanched almond flour
1/2 cup brown sugar
1/2 cup sliced almonds
1 teaspoon pure vanilla extract
1/4 cup grapeseed oil (or other neutral tasting oil)
DIRECTIONS
Preheat oven to 350 degrees. Spray a 9 or 10 inch baking dish with non-stick cooking spray.
In a large mixing bowl, whisk together the pear nectar or apple juice, lemon juice, cornstarch or arrowroot powder and a small pinch of salt. Add the pear slices and cranberries and gently toss. Pour into the prepared dish.
In another large mixing bowl combine the almond flour, brown sugar, the remaining ½ teaspoon of salt and sliced almonds. Add the vanilla and oil and stir with a fork until crumbly. Top the pears with the mixture. Cover with foil and bake for 45 minutes. Remove the foil and continue to bake for 10 – 15 minutes or until the topping is golden brown and the juices are bubbly. Serve warm.
Visit http://simplygluten-free.blogspot.com/ for more of Carol's recipes!
NUTRITION
Serving Size: 6 oz
Calories: 360
Carbohydrate: 45g
Dietary Fiber: 7g
Protein: 6g