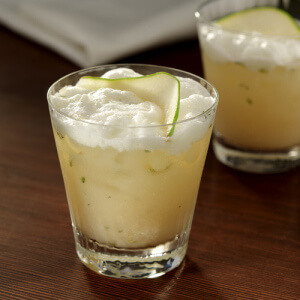 Velvet smooth and practically singing with pear flavor, this charming cocktail offers spicy notes of cardamom, mint and ginger and is perfect for any time of day. It would be apropos as a brunch cocktail. Created by Daniel Braun of Oliver's Twist, Seattle, WA.
INGREDIENTS
Cocktail
1 ripe USA Pear, divided (experiment with the Green Anjou, Comice, and Concorde varieties)
8 medium-sized mint leaves
1 teaspoon huckleberry liqueur
1 teaspoon pear liqueur, such as Clear Creek Pear Brandy or Aqua Perfecta Pear Eau de Vie
2 dashes orange bitters
¾ ounce pear-cardamom syrup (see recipe below)
1-½ ounces light rum
¾ ounce fresh squeezed lemon juice
¼ ounce fresh ginger juice
1 large egg white
Ice
Pear-Cardamom Syrup
1 cup granulated sugar
1 cup water
½ USA Pear, shaved w/ vegetable peeler
1 teaspoon ground cardamom
DIRECTIONS
For syrup: Bring sugar and water to boil in small pot. Remove from heat and add pear and cardamom. Cover and let sit for 20 minutes. Strain and chill.
For cocktail: Dice ¼ of the pear into ¼" cubes and place in rocks glass with huckleberry liqueur, mint and brandy. Stir to combine. Cut another ¼ of pear into large chunks. Put in shaker and add bitters and pear-cardamom syrup. Muddle until pear is completely broken down. Add rum, lemon juice, ginger juice and egg white. Fill with ice and shake for 30 seconds. Add ice cubes to rocks glass with pear cubes. Strain cocktail into glass and garnish by standing a paper-thin slice of pear in froth.
NUTRITION
Serving Size: 14 oz
Calories: 410
Carbohydrate: 70g
Dietary Fiber: 10g
Protein: 6g