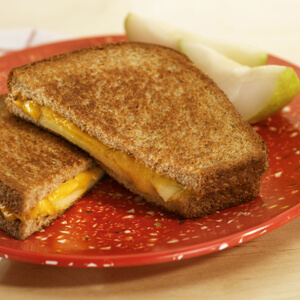 Pear and Grilled Cheese Sandwich
Kids will love this sweet spin on the classic grilled cheese. They can help make it, too, by spreading the butter and mustard and lining the bread with sliced cheese and pears. Make lunch fun with this tasty sandwich!
INGREDIENTS
8 slices whole wheat or rye sandwich bread
4 to 6 tablespoons unsalted butter, slightly softened
4 tablespoons whole grain mustard
1 Bartlett USA Pear, halved, cored, and thinly sliced
6 to 8 ounces sharp cheddar cheese, thinly sliced
DIRECTIONS
Generously butter one side of each slice of bread. Thinly spread mustard on the other sides. Layer cheese slices on the mustard side of the bread slices and place pear slices in between.
Grill in a nonstick pan over medium high heat until toasted on one side, about 5 minutes. Turn and grill the other side until golden brown and cheese in between slices of bread is melted.
NUTRITION
Serving Size: 1 Sandwich
Calories: 520
Carbohydrate: 34g
Dietary Fiber: 7g
Protein: 21g