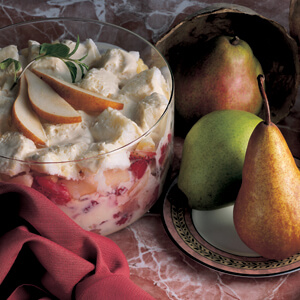 Light and Easy Pear-Strawberry Trifle
This fruit-filled dessert is easy to put together and can be made in minutes. USA Pears are available nearly year-round - they're a perfect accompaniment to strawberries, tangy pineapple, and fluffy angel food cake.
INGREDIENTS
2 pared, cored, and thinly sliced Anjou or Bosc USA Pears
2 tablespoons lemon juice
2 cups coarsely chopped strawberries
2 tablespoons almond-flavored liqueur OR ½ teaspoon almond extract
2 tablespoons orange juice
2 tablespoons honey
½ 9-inch angel food cake, cut to 1-inch cubes
3 cups vanilla or lemon yogurt
1 cup diced fresh or canned pineapple, drained
Pear slices, to garnish
Mint sprigs, to garnish
DIRECTIONS
Toss pears in lemon juice and strawberries in liqueur. Combine orange juice and honey, mix well. Layer a deep 2 to 2 ½-quart glass bowl in the following order: a third of the cake cubes sprinkled with 1 tablespoon orange juice mixture, 1 cup yogurt, 1 cup pear slices, 1 cup strawberries, and ½ cup pineapple; repeat. Layer remaining cake, sprinkle with remaining orange juice mixture and spread 1 cup yogurt over top. Cover with plastic wrap and refrigerate 1 to 4 hours before serving. Garnish with pear slices and mint just before serving.
NUTRITION
Serving Size: 11 oz
Calories: 310
Carbohydrate: 67g
Dietary Fiber: 4g
Protein: 10g