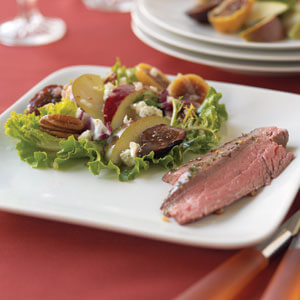 Flank Steak Ribbons with Pear-Fig Salad
Portioned in small plate sizes perfect for entertaining, this savory combo is a crowd-pleaser. The flank steak is rubbed with fresh herbs and garlic for maximum flavor and the colorful Pear-Fig Salad adds a blend of crisp and crunchy textures with its tasty fresh pears, greens, and chopped nuts. Blue cheese and White Wine-Fig Dressing round out the salad's flavor appeal.
INGREDIENTS
White Wine-Fig Dressing
¼ cup olive oil
¼ teaspoon freshly ground black pepper
½ teaspoon salt
1 tablespoon honey
2 tablespoons finely chopped shallot
2 tablespoons fresh lemon juice
½ cup white wine
1 cup sliced, stemmed Blue Ribbon, Orchard Choice, or Sun Maid Mission or Calimyrna figs
Herb-Rubbed Flank Steak
2 tablespoons each: finely chopped fresh thyme and fresh rosemary (2 teaspoons each if dried)
2 tablespoons olive oil
1 ½ teaspoons minced or pressed garlic
1 teaspoon salt
¾ teaspoon freshly ground black pepper
1 ½ pounds flank steak, trimmed
Salad
3 cups mixed baby salad greens
1 ½ cups Red Anjou or Seckel USA Pear chunks or slices
¼ cup crumbled blue cheese
¼ cup chopped roasted almonds, pecans or walnuts (optional)
DIRECTIONS
For dressing: Combine figs and wine in small saucepan. Bring to a boil over medium heat, reduce heat and simmer 2 minutes. Remove from heat and stir in lemon juice, shallot, honey, salt and pepper. Stir in olive oil. Set aside.
For steak: Mix thyme, rosemary, olive oil, garlic, salt, and pepper. Stir in olive oil. Spread on both sides of steak. Cook steak over hot grill or in broiler 5 to 8 minutes per side, until done as desired. Let beef rest 5 minutes before slicing.
For salad: While beef rests, combine greens, pears, blue cheese and nuts in salad bowl. Toss with dressing. Cut steak across the grain into thin slices.
Serve two or three slices beef on a small plate; with salad on the side.
NUTRITION
Serving Size: 7 oz
Calories: 336 (46% calories from fat)
Carbohydrate: 24g
Dietary Fiber: 4g
Protein: 19g