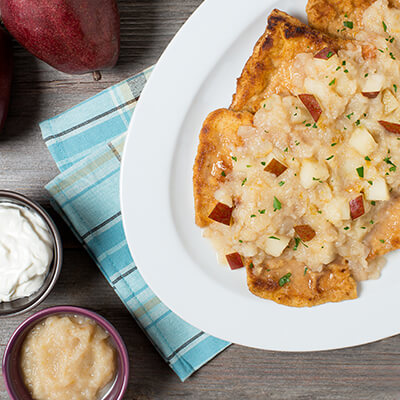 Crispy Pork Cutlets with Fresh Pear Sauce
"This recipe was inspired by two classic dishes: Schnitzel, the crispy, thinly pounded cutlets so popular in Germany, and the classic all-American combination of pork, applesauce (or in this case, pear sauce), and sour cream. This recipe makes for a delicious and warming winter dinner, and it's perfect served with a simple steamed or roasted vegetable - I highly recommend Brussels sprouts." – Hilary Finch Hutler, Tummyrumblr
INGREDIENTS
Pear Sauce
3 ripe USA Pears, such as Red Bartlett, Anjou, or Comice
2 tablespoons sugar
2 teaspoons sherry vinegar
¼ teaspoon cinnamon
¼ teaspoon salt
Pork
4 pork cutlets, 4-5 ounces each
Salt and freshly ground black pepper
½ cup flour
3 eggs, lightly beaten
1 cup breadcrumbs
Equal parts butter and olive oil for frying
DIRECTIONS
For the pear sauce: Roughly chop two of the pears and place them into a saucepan over medium low heat. Add the sugar, vinegar, cinnamon, and salt, and cover. Cook for 5-10 minutes, or until the pears have released a lot of their liquid. Once the mixture is liquidy, uncover and increase the heat to medium high. Simmer for another 5-10 minutes, stirring often, until the mixture has thickened. Lastly, dice the remaining pear and gently stir it into the sauce. Set aside, covered, until ready to use.
For the pork: Place the pork cutlets between two sheets of plastic wrap and pound them until they are ⅛-inch thick. If you don't have a proper meat pounder, a rolling pin or an empty wine bottle will do. Once the cutlets are nice and thin, season them lightly on both sides with salt and pepper and set aside. Next, place flour, beaten eggs, and breadcrumbs into three separate containers large enough to dip the cutlets into. To bread the cutlets, first dip in the flour, coating as evenly as possible and shaking off any excess. Then dip the floured cutlet into the egg mixture, coating both sides, and lastly into the breadcrumbs, which will stick easily to the egg. Place the cutlets aside while you prepare for frying.
Preheat the oven to 250 degrees. Heat a wide sauté pan over medium heat. Once hot, add approximately equal parts butter and olive oil—just enough to coat the bottom of the pan to a depth of ⅛-inch. Fry the cutlets in the hot fat one at a time, for about 2-3 minutes per side or until golden brown. As the finished cutlets come out of the pan, transfer them to the warm oven while you cook the others. You will need to add a bit more butter and oil between each cutlet.
Sprinkle the cooked cutlets with a little more salt to finish and serve with the warm, fresh pear sauce and a spoonful of sour cream.
NUTRITION
Serving Size: 11 oz
Calories: 590
Carbohydrate: 54g
Dietary Fiber: 6g
Protein: 41g