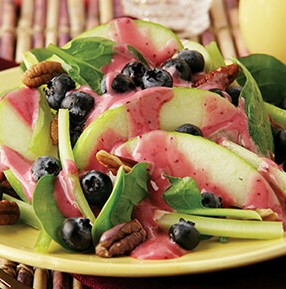 Blueberry and Pear Waldorf Salad
This fresh take on the classic Waldorf salad will have your taste buds singing! The blueberry dressing adds a unique sweetness and spice, not to mention gorgeous color. Find more great recipes and serving ideas at oregonblueberry.com!
INGREDIENTS
1 cup fresh or thawed frozen blueberries, divided
¼ cup vegetable oil
2 tablespoons orange marmalade
2 teaspoons lemon juice
1 teaspoon Dijon mustard
¼ teaspoon salt
4 cups (about 4 ounces) baby spinach
1 pear, cored and thinly sliced
2 ribs celery, cut into 1-½-inch matchsticks (about 1 cup)
⅓ cup pecan or walnut halves, toasted
DIRECTIONS
To prepare dressing: In a blender container, combine ½ cup of the blueberries, oil, marmalade, lemon juice, mustard and salt; blend until a smooth, thick dressing forms.
In a bowl, toss spinach with pear slices, celery, pecans and remaining ½ cup blueberries. Arrange equally on four serving plates.
Just before serving, blend dressing again until smooth; drizzle over the salads. Serve immediately.
NUTRITION
Serving Size: 336g
Calories: 530
Carbohydrate: 43g
Dietary Fiber: 9g
Protein: 4g
---
1 Comment » for Blueberry and Pear Waldorf Salad