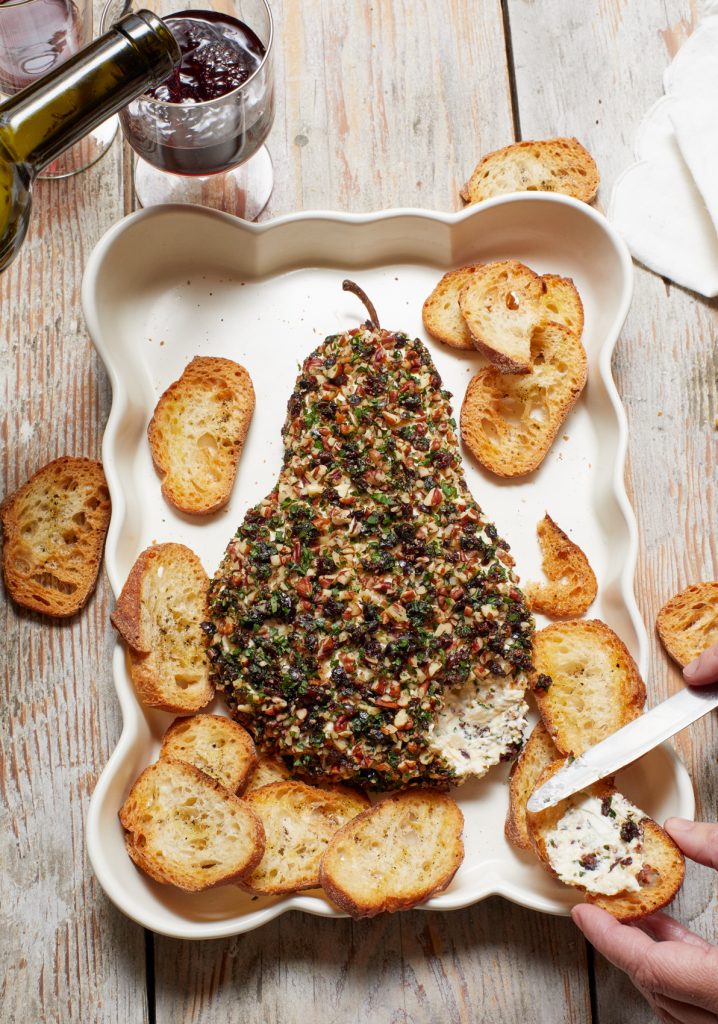 The all-American cheese ball is a throwback worth revisiting. Popular at holiday parties of yesteryear, today we take a fresh, lightened-up approach with the addition of pears. Swap the classic orange cheddar or crumbly blue for a nutty aged Gouda. The nuttiness plays well with both the sweet pears folded into the cheese mixture and the crunchy pecans that are sprinkled on the outside, while parsley and scallions add a savory bite. Perfect for an office gathering or a family affair, this pear-flecked cheese spread presents well in the shape of everyone's favorite holiday fruit. And it's deceptively easy to pull off, too.
Serves 8 to 10
Ingredients:
1 (8-ounce) package cream cheese, at room temperature
2 cups finely shredded aged Gouda cheese (about 6 ounces), at room temperature
1 ripe USA Anjou pear, peeled, cored (reserving the stem), and finely diced
1 green onion, white and light green parts only, minced
3 tablespoons finely chopped flat-leaf parsley
1/4 teaspoon kosher salt
1/4 teaspoon freshly ground pepper
Nonstick cooking spray
1/4 cup finely chopped pecans, toasted
3 tablespoons minced dried cranberries
Crostini or crackers, for serving
Directions:
In a medium bowl, mix the cream cheese, Gouda, pear, green onion, 1 tablespoon of the parsley, the salt, and pepper until well combined.
Coat a large piece of plastic wrap with cooking spray. Transfer the cheese mixture to the center of the plastic wrap and press and mold it into an oval disk. Tightly wrap and refrigerate until well chilled, at least 1 hour and up to 2 days.
In a small bowl, mix the remaining 2 tablespoons of the parsley, the pecans, and cranberries; set aside.
Remove the cheese disk from the refrigerator, unwrap it, and place it in the center of a serving platter. Use another piece of plastic wrap and your hands to mold the cheese mixture into the shape of a pear. Sprinkle with the pecan mixture to coat the top and sides evenly. Wipe the edges of the platter clean with a damp paper towel. Place the reserved pear stem in the top, and serve with crostini or crackers arranged around the edges of the platter.
Photography: George Barberis (@georgebarberis)
Recipe and Styling: Andrea Slonecker (@andreaslonecker)