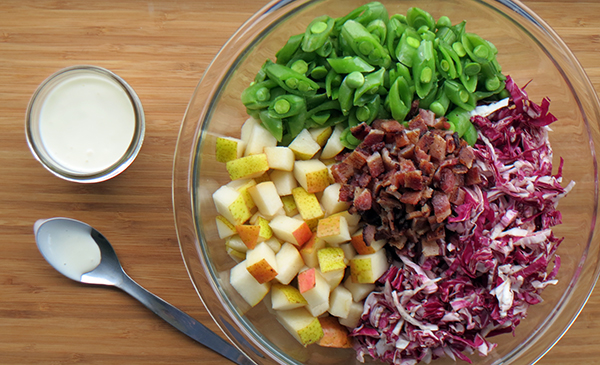 Here is a quick and fresh salad recipe to welcome spring. Based loosely on the classic pea, bacon, and mayonnaise salad famously served at every Midwestern potluck, my version uses fresh sugar snap peas, bold radicchio, smoky bacon, and sweet, ripe USA Pears for balance. Toss the fruit and vegetables in a simple, creamy dressing and chill until crisp. Serve this salad on the first day you fire up your barbecue—it will pair perfectly with anything from the grill.
Ingredients
Dressing
1 tablespoon freshly squeezed lemon juice (from half a lemon)
2 teaspoons sugar
¼ teaspoon salt
2 tablespoons finely minced shallot
¼ cup sour cream
¼ cup mayonnaise
Salad
6 slices thick-cut bacon, cooked, cooled, and chopped
1 head radicchio, quartered, cored, and thinly sliced
1 pint fresh sugar snap peas, strings removed and sliced on the bias
2 ripe USA Pears, such as Green or Red Anjou, medium dice
Directions
For the dressing: Combine the lemon juice, sugar, and salt in a jar with a tight-fitting lid and shake vigorously to dissolve sugar. Add the shallots, sour cream, and mayonnaise and shake again to combine. Refrigerate until ready to use.
For the salad: In a large bowl, combine all of the ingredients (you may reserve a small portion of the bacon for garnish). Toss thoroughly with the dressing, cover, and refrigerate for one hour (or up to 24 hours). When you're ready to serve the salad, remove from the refrigerator, toss again gently, and transfer to a clean platter or bowl. Garnish with the remaining bacon, if desired.
prep time: 30 minutes plus chilling
yield: 4 servings