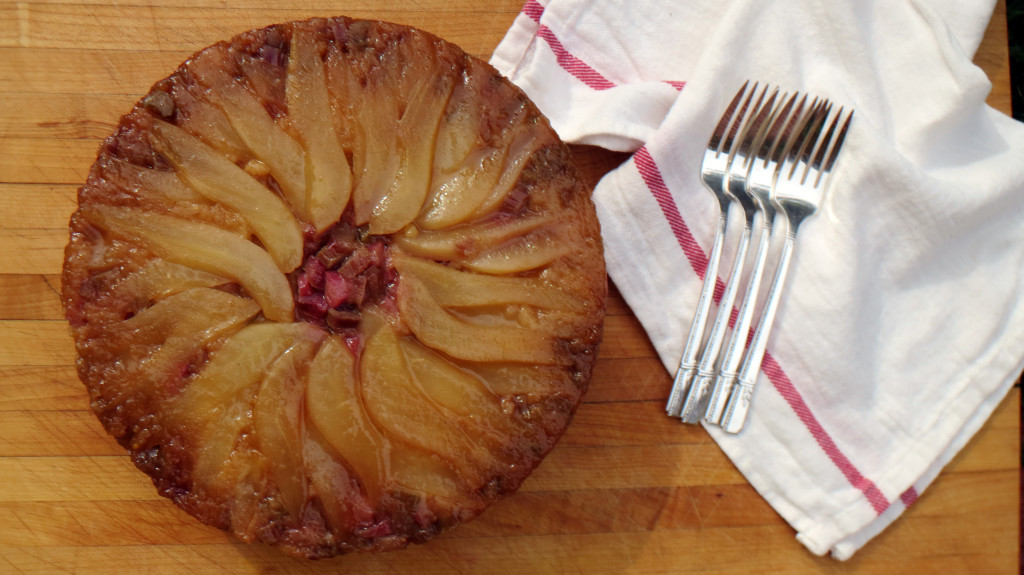 Here is a lovely spring take on an upside-down cake! Sweet pears and tart rhubarb combine to make a beautiful pink glaze atop this golden, buttery cake with the crunch of cornmeal. This cake is a great way to use under-ripe pears, as fully ripe pears will become too soft during baking. Serve a slice of this beautiful cake for breakfast alongside a cup of tea, or for dessert with a scoop of vanilla ice cream alongside.
Ingredients
Glaze
¼ cup butter (half a stick)
½ cup light brown sugar
Cake
¾ cup butter (1 ½ sticks), softened
1 cup sugar
2 eggs
1 teaspoon vanilla
1 cup buttermilk
1 ¾ cup flour
½ cup finely ground cornmeal
2 teaspoons baking powder
½ teaspoon salt
3 firm USA Pears, such as Bosc or Anjou
3-4 medium stalks rhubarb (about 2 cups chopped)
Directions
Preheat oven to 325 degrees. Lightly grease a 10-inch cake pan or cast-iron skillet with butter or cooking spray. Cut a circle of parchment paper to line the bottom of the pan, coating the paper lightly with butter or cooking spray as well.
Combine the ¼ cup butter and the brown sugar in a small saucepan over medium-low heat. Stir frequently until the butter melts and combines with the brown sugar to form a thick glaze, about 3 minutes. Pour the glaze into the bottom of the prepared pan and gently spread it to the corners with a spatula. Set aside until the cake batter is complete.
For the cake, combine the softened butter and sugar in the bowl of a stand mixer and whip with the paddle attachment until light, fluffy, and pale, about 3 minutes. Add the eggs and vanilla, and whip until combined. Next, add the buttermilk and blend at low speed to incorporate, scraping down the sides if necessary (the mixture will look curdled). In a separate small bowl, combine the flour, cornmeal, baking powder, and salt, and whisk together to mix. Add the dry ingredients to the mixer, and run the machine until the dry and wet mixtures just come together to form a batter. Set aside while you prepare your fruit.
Cut the rhubarb into a medium dice (pieces ½ inch or smaller), to ensure that it will become soft during baking. Peel and quarter the pears, trim away the core, and then slice into approximately ¼-inch slices. Arrange the pear slices around the pan in a circular pattern, overlapping slightly. You will likely have 2 to 3 layers of pears. Next, sprinkle the rhubarb over the top of the pears as evenly as possible. Lastly, scrape the batter into the pan and spread to the corners with a spatula.
Bake the cake for 65-75 minutes, or until a toothpick inserted in the center comes out clean. Allow the cake to cool for 30-45 minutes before running a knife around the edge and inverting onto a platter. Gently remove the parchment paper circle, slice, and serve.
prep time: 25 minutes plus baking
yield: 8-10 servings