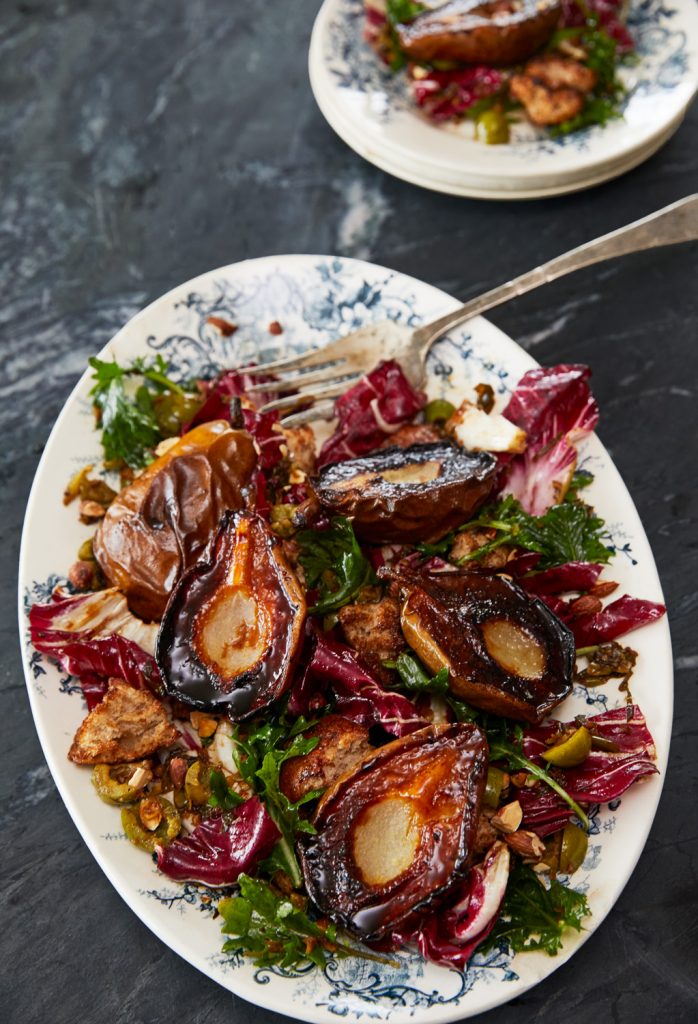 A good cast-iron pan works wonders on pears. When just-ripe Anjous are cut in half and seared in a hot skillet then placed in the oven, it brings out a rich and roasty caramelized flavor that renders the pears entrée worthy. They take on depth of flavor and luscious texture to make them a deliciously satisfying substitute for meat, whether you practice a vegetarian or vegan diet, or are just looking to reduce the amount of meat you consume. Here the roasted pears are offered with a warm, whole-grain panzanella, that ubiquitous Italian bread salad usually involving fruity tomatoes and basil in the height of summer. Fruity roasted pears are a perfect alternative at the end of winter. Packed with hearty greens and chicories, olives, and a maple-scallion dressing, this recipe makes for a nutritious one-dish meal.
Serves 4-6
Ingredients:
6 ounces seedy whole-grain artisan bread, torn into bite-size pieces (about 4 packed cups)
4 to 6 USA Red Anjou pears
Kosher salt and freshly ground black pepper
1/4 cup extra-virgin olive oil, plus more for drizzling
1 bunch scallions, white and green parts, trimmed and thinly sliced on a bias
2 garlic cloves, minced
2 tablespoons red wine vinegar
1 tablespoon pure maple syrup
4 packed cups torn radicchio leaves, soaked in cold water for 20 minutes and drained
2 packed cups baby kale or arugula leaves
3/4 cup green olives, smashed, pitted and very coarsely chopped
3 tablespoons chopped toasted almonds
Directions:
Spread the torn bread on a large rimmed baking sheet and broil in the oven until lightly charred all over but still a little soft inside, turning once, 3 to 5 minutes (be careful not to let them burn!). Remove the croutons from the oven and set aside.
Switch the oven to preheat to 475˚F. Halve and core the pears and sprinkle the cut sides lightly with salt and pepper.
In a large cast-iron skillet, heat 1 tablespoon of the oil over medium-high heat. When wisps of smoke appear, add the pears to the skillet in a single layer with cut sides down. Transfer the skillet to the oven and roast until the pears are deeply browned and caramelized on the cut sides and very tender inside when pierced with a fork, 20 to 25 minutes.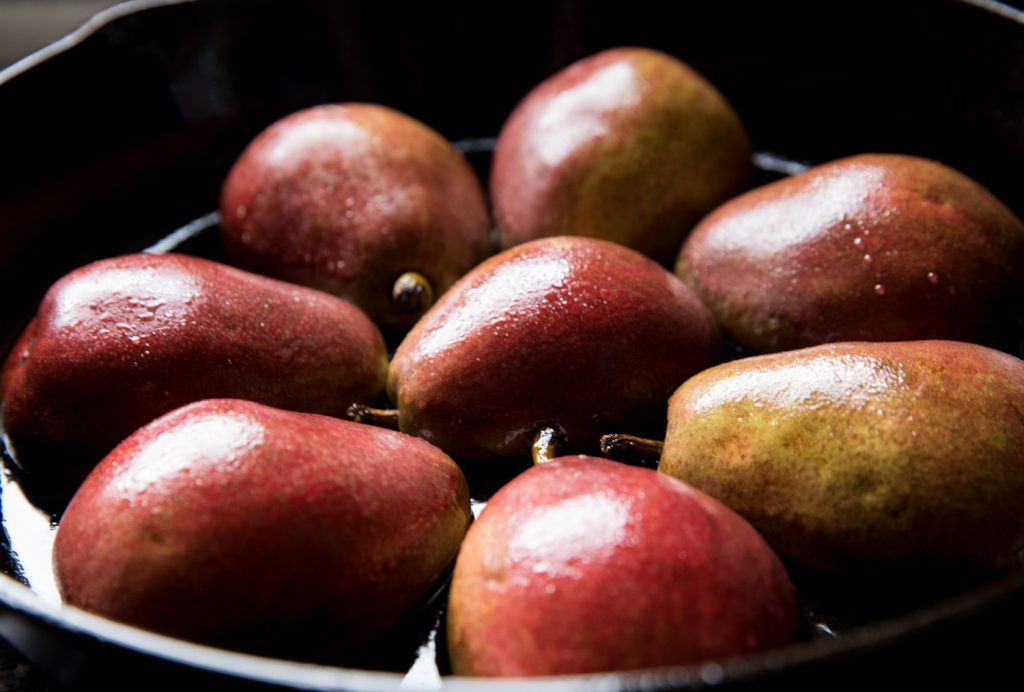 Transfer the roasted pears to a platter and loosely tent with foil. Place the pan of hot pear drippings over medium heat and immediately whisk in 1 more tablespoon of the oil, the scallions, and garlic and cook briefly, until just softened, 2 to 3 minutes. Turn off the heat and whisk in the vinegar, maple syrup, and the remaining 2 tablespoons of oil. Season to taste with salt and pepper.
In a large bowl, combine the croutons, radicchio, kale or arugula, and olives. Pour in the warm dressing and toss very thoroughly. If needed, drizzle in a little more olive oil so that all ingredients are nicely coated. Serve the pears over the warm salad, garnished with plenty of the toasted almonds.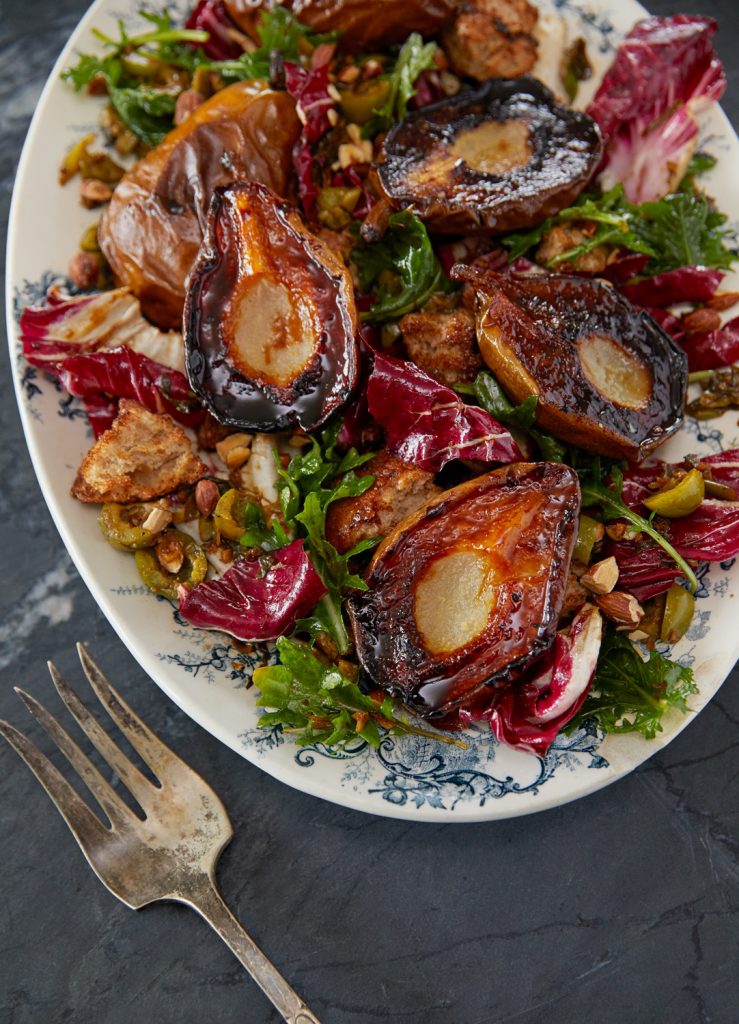 Want more pear recipes? Visit our recipe page!
Make sure to follow USA Pears on Facebook, Twitter and Instagram for all things pears!
Photography: George Barberis (@georgebarberis)
Recipe and Styling: Andrea Slonecker (@andreaslonecker)