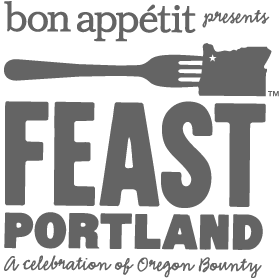 USA Pears Pop-Up at FEAST Portland 2014 is a winning concept
PORTLAND, Ore. – April 20, 2015 – The National Agri-Marketing Association (NAMA) awarded USA Pears and its agency Harvest PR & Marketing, Inc., first place honors in the customer event category for its USA Pears Pop-Up Restaurant, staged at the 2014 FEAST Portland event, the Northwest's flagship food festival. The Best of NAMA Awards recipients, announced last week during the 2015 NAMA annual convention in Kansas City, Missouri, honors excellence in agricultural communications. USA Pears' entry was just one of three entries in the entire competition to be nominated for Best in Show in the PR category.
"Educating consumers and media about fresh pear varieties, usage and handling is always our goal," said Kathy Stephenson, marketing communications director for USA Pears. "It was wonderful working with talented chefs and seeing this creative engagement recognized on a national level."
The USA Pears Pop-Up concept was inspired by Portland's pop-up and street-food scene, in which chefs create temporary restaurants featuring limited-time menus that celebrate fresh, locally grown ingredients. The two-day tasting activation at FEAST Portland allowed USA Pears to interact with more than 2,000 attendees, engage with thousands of people through social channels and secure coverage in local and national culinary press.
The USA Pears Pop-Up concept also won NAMA's West Coast Region 1 Best of Show in the Public Relations category in December 2014. In 2013, USA Pears earned honors for its Tattoo PEARlor consumer event activation.
About Pear Bureau Northwest
The Pear Bureau Northwest was established in 1931 as a nonprofit marketing organization to promote the fresh pears grown in Oregon and Washington. Today, the United States is the third largest pear-producing country in the world, and Oregon and Washington comprise the nation's largest pear growing region with 1,600 growers producing 84% of all fresh pears grown in the United States. Pears grown in these two Pacific Northwest states are distributed under the "USA Pears" brand. Pears are an excellent source of fiber (24% DV) and a good source of vitamin C (10% DV) for only 100 calories per medium sized pear. Sweet and juicy with no fat, no sodium, and no cholesterol, pears are a perfect choice for a snack as well as for any course of any meal of the day. For more information, visit www.usapears.org, www.facebook.com/USApears, and follow @USApears on Twitter.
# # #
CONTACT:
Kathy Stephenson, Marketing Communications Director
kstephenson@usapears.com, 503.652.9720