Sprouts earns recognition for pear category strategies resulting in sales increase

Download team presentation image from USA Pears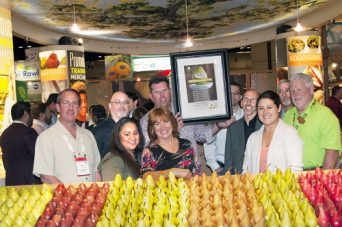 Portland, Ore.  (October 18, 2016) – On the show floor of the 2016 PMA Fresh Summit, USA Pears presents Sprouts Farmers Markets with the 2016 Pear Retailer of the Year award for their pear category improvements in merchandising performance and sales increase. "On behalf of nearly 1,600 fresh pear growers of Washington and Oregon," says Kevin Moffitt Pear Bureau Northwest CEO, "we congratulate the Sprouts produce team and appreciate their effort in building a strong pear category."
Sprouts follows many of the best practices for increased pear category sales recommended by USA Pears, including displaying two green pear varieties at once. Additionally, they give shoppers choices by promoting multiple pear varieties, carry two sizes of top selling varieties, increase impulse purchases through in-store sampling, allocate plenty of the valuable front of store space to pear displays, and train personnel to improve category knowledge. "All of these tactics over the whole season add up to great category performance," says Moffitt.
"Sprouts entices shoppers to larger purchases by giving them choices in pears. From two green pear varieties to popular variety displays at the front of the store, they are creating interest and adding value for their customers," explains Dave Howald, Western Regional Manager for Pear Bureau Northwest. "And their in-store sampling allows consumers to try new varieties and learn about ripening pears from produce professionals."
Sprouts' VP of Procurement, Chad Miller agrees, "Sprouts devotes a sizable space to the pear category which includes the ability to flex for promotions as well as driving customer engagement through sampling at point of purchase."
Training is a major concern among produce managers and Sprouts is open to opportunities for their staff to learn from experts. Miller raves, "The NW Pear Bureau has provided us updated regular crop estimates, promotional timing and direction/suggestions with opportunities that increase basket size all of which have been extremely beneficial in our continued success."
Miller is honored to accept this award on behalf of the company. "It's great to see Sprouts recognized for our ongoing efforts in driving a consumer knowledge and awareness of the category in which we attribute some of our success through the different usages that a pear can play in a enhancing a meal," he says.
This year, USA Pears also recognizes Costco Wholesale, Publix Super Markets, Defense Commissary Agency, Giant Eagle, Inc., Tops Friendly Markets and WalMart Stores as 2016 Pear Category Leaders.
The Pear Retailer of the Year Award was established by Pear Bureau Northwest in 2011. Past honorees were Demoula's Market Basket (2011), Meijer (2012), Ingles (2013), Publix Markets (2014) and Wegmans (2015). The Pear Bureau's team of regional marketing managers selects the annual recipient based on sales performance, creativity, and best practices in pear merchandising, and overall excellence in supporting the pear category.
About Pear Bureau Northwest
Pear Bureau Northwest is a non-profit marketing organization established 85 years ago to promote the fresh USA Pears grown in Washington and Oregon, home to 84% of the US fresh pear crop. The Bureau represents nearly 1,600 growers and partners with grocery retailers throughout the world in an effort to increase overall success with the pear category.  The organization provides marketing and merchandising expertise that is customized specifically for each retail organization, using its pear consumer research findings as well as individual store analysis using an in-house data system that measures pear category performance nationwide and third-party research to show retailers how they perform versus their competition. Retailers who are interested in partnering with Pear Bureau Northwest should contact them at profits@usapears.com or 1 (800) 547-4610, as well as visit the Trade.USAPears.org website.
# # #