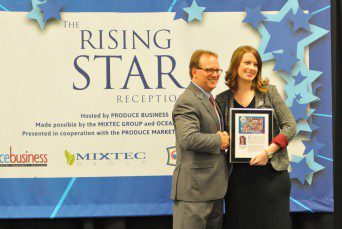 AMONG PRODUCE INDUSTRY YOUNG LEADERS
Trade Publication "Produce Business" Honors Kennedy in 40 Under Forty Project
Portland, Ore. – October 26, 2015 – Pear Bureau Northwest, the non-profit marketing organization that represents the 1,600 pear growers of Oregon and Washington (home to 84% of the U.S. fresh pear crop), is pleased to announce that Lynsey Kennedy, the organization's international marketing manager, is being recognized as one of the produce industry's top young leaders.
Produce Business, a key produce industry trade publication, has been recognizing exemplary young industry
leadership with a special report entitled "40 Under Forty" for the past ten years. Each spring, the staff of the publication reviews nominations to select those whose leadership early in their careers shows promise and supports industry efforts. Honorees are also awarded based on their professional accomplishments and industry/community contributions.
Kennedy is being honored for her skilled work coordinating with 15 international marketing representatives to manage USA Pears promotion programs in 33 countries around the world. She coordinates a wide range of trade and consumer activities for the Pear Bureau, including managing international trade show participation and reverse trade missions. She also works diligently behind-the-scenes to coordinate grant funding and reporting compliance, including the Bureau's participation in the USDA Foreign Agricultural Service's Market Access Program.
"Lynsey has been a tremendous asset for the Pear Bureau and for the Northwest pear industry at large," said Jeff Correa, Pear Bureau Director of International Marketing. "She has a unique blend of characteristics that makes her an ideal co-worker—someone with a strong work ethic, a very good problem solver, and who also has the creative mind for new promotional ideas and the necessary patience to help in the management of an international team of marketing representatives. It is a pleasure to work with Lynsey and it is great to see her justly honored for all the excellent work she does."
Having joined the Pear Bureau staff seven years ago as international program coordinator before moving into the role of international marketing manager in 2012, Kennedy looks forward to continuing to expand the Pear Bureau's international presence, seeing USA Pears from Pacific Northwest orchards into consumers' hands around the globe.
# # #
About Pear Bureau Northwest
The Pear Bureau Northwest is a nonprofit marketing organization established in 1931 to promote the fresh USA Pears grown in Washington and Oregon. The Bureau represents more than 1,600 growers who grow 84 percent of the nation's fresh pear crop, and develops national and international markets for Northwest pear distribution. For more information, visit www.usapears.org.