USA Pear Growers Jon and Debra Laraway: Lucky in Love with PEARS
The American Northwest is a place where little farms are still carving out space among the snow-capped mountains. Pears have been grown among the rolling orchards and foggy valleys for generations, tended by the same families with the same hard work and commitment to producing the best fresh produce.
Near a little red barn nestled among the 100 acres of fruit trees in Hood River, Oregon, live Jon and Debra Laraway. Jon comes from a pear-growing family, four generations of them. He never wanted to do anything else and Debra was right there with him. "I couldn't wait to move to Hood River and live on a farm," says Debra. "I said to Jon, 'sign me up!'"
Today, Debra works with the pickers, runs supplies and water, and examines fruit quality in the bins. Jon handles bookkeeping and recordkeeping, plus field work,including the occasional late-night runs to turn on the frost fans.
The region's temperate climate of warm days and cool nights, combined with its rich, volcanic ash soil fed by mountain streams and coastal air, is a perfect recipe for the Bartlett, Green Anjou, Red Anjou and Bosc pears they feel so lucky to grow andshare with you today.
Laraways' Favorite Snack? Dried pears, of course!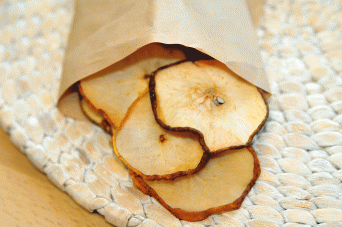 How do the Laraways enjoy their pears? They DEHYDRATE them! Dehydrated fruit is perfect for on-the-go snacking and is super simple to make, too. Click here for the recipe.
See more grower profiles!