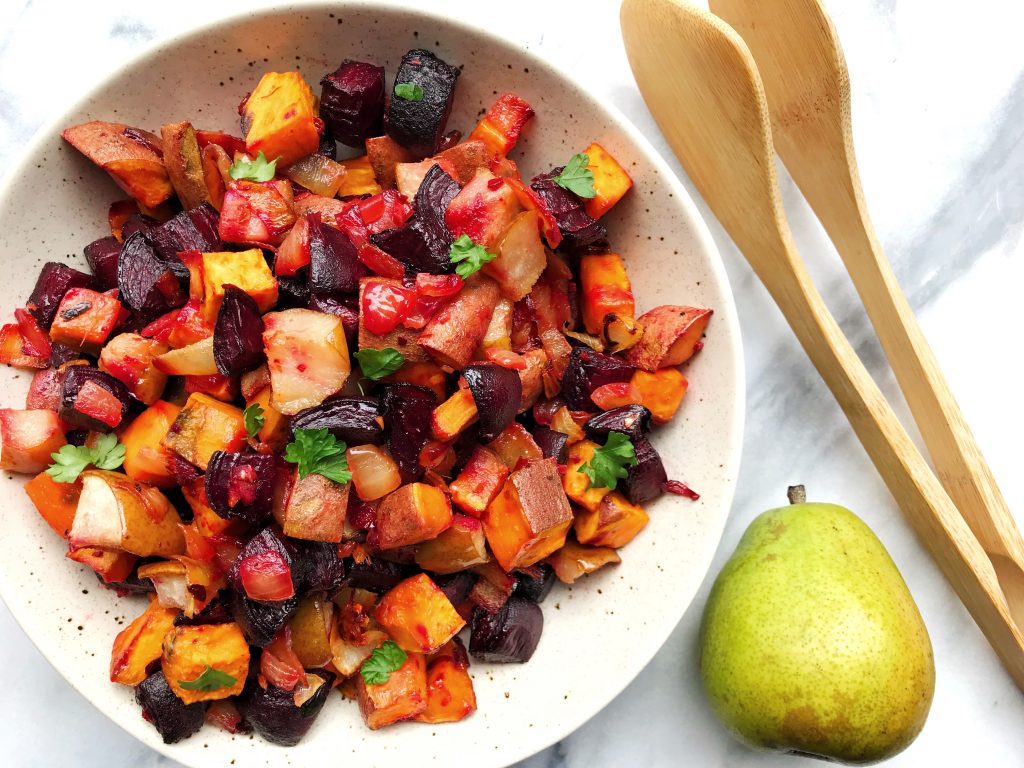 This recipe is the perfect way to celebrate the bounty of fall and winter produce. The two root vegetables partnered with Anjou pears (green or red) are beautifully enhanced by the addition of fresh ginger and thyme. Present this at your next holiday gathering and be prepared to have guests swooning!
Ingredients:
3 medium-large beets, peeled and diced into 1 inch cubes
1 sweet yellow onion, chopped
1 clove garlic, minced
1 inch piece fresh ginger, peeled and minced
2 large sweet potatoes, diced into 1 inch cubes (peel or keep skin on, either works)
2 green Anjou pears (ripe but still firm)
1-2 tsp fresh thyme
Salt to taste
1-2 tbsp Avocado oil or olive oil
1-2 tsp chopped fresh parsley (optional)
Instructions:
Preheat oven to 400 degrees. Line a large baking sheet with parchment paper.
In a mixing bowl, combine beets, onion, garlic, ginger, salt and about 1 tbsp avocado oil. Toss so veggies are well coated in oil. Spread beet mixture evenly on baking sheet, and bake for 15 minutes.
While beets are baking, combine sweet potatoes, pears, thyme, salt, and remaining oil in bowl.
Add the sweet potatoes and pears to the baking sheet and mix to combine.
Place mixture back into the oven and roast for an additional 40-50 minutes. Toss mixture halfway through baking.
Add more salt to taste after cooking, and garnish with fresh parsley. Enjoy warm or cold – it tastes delicious either way!
Recipe development and photography by Alexandra Aldeborgh (@daisybeet).