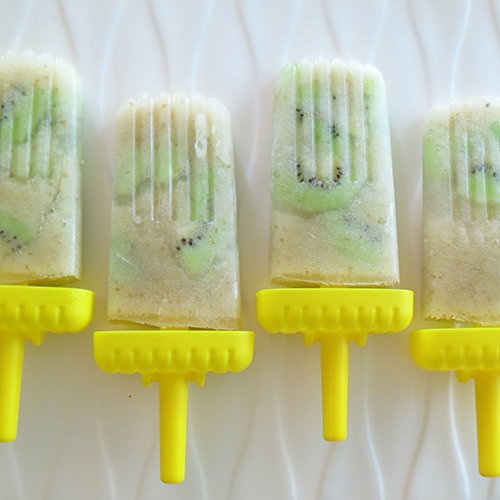 These delightful summer popsicles have just four ingredients: whole ripe pears, kiwi fruit, coconut water, and lime. Creamy and sweet-tart, they contain fiber, vitamin C, and potassium. The pears, coconut water, and lime are pureed to make a luscious, pale green base and then chunks of kiwi are added at the end to put the bright green "pop" in popsicle. These summer treats are sweetened with fruit only, so go ahead and have another!
Ingredients
2 ripe USA Pears, such as Anjou, cored and sliced
1 tablespoon fresh lime juice (from about 1 lime)
1 ⅓ cups coconut water
2 whole kiwis, peeled, quartered, and sliced into ¼-inch pieces
Directions
Place the pear slices, coconut water, and lime juice in a blender and puree until smooth. Pour the mixture into popsicle molds, filling them about half way. Divide the kiwi chunks between the molds and then top with the remaining puree. Freeze the popsicles until firm.
prep time: 10 minutes
yield: 6-10 popsicles